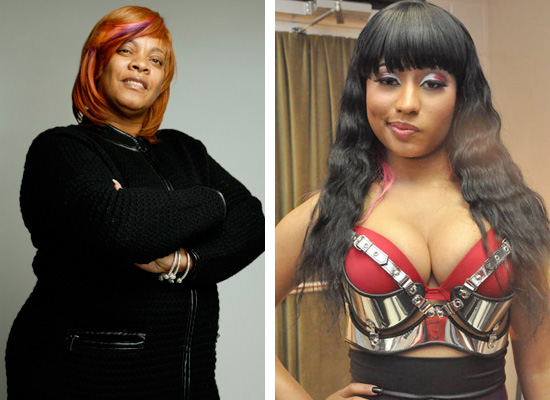 Debra Antney, who became famous after she was dropped from Nicki Minaj's management team earlier this year, recently gave her take on her former client's debut album Pink Friday and pulled no punches.
And when we say Deb pulled no punches, WE MEAN IT! Waka Flocka Flame's mama went IN, holding nothing back and calling the album "terrible" among other things.
Peep what she said below:
It's terrible. I like some stuff, but she went too left. I don't think people were ready for her to come [out with pop]. When I had Nicki, I really wanted her to sing. That's why I took her for training cause Nicki loves singing, but she kept saying to me, 'Deb, I can't do it yet because people won't understand.' And that's why the [rap] mixture was done to introduce them to all of Nicki. I think [Pink Friday] was very disappointing to a lot of her fans. She didn't need a lot of [the] features. That was one of the biggest things like… you gave people so many features, give them you now. Nicki could be so much better because—outside of anything that people say—she's very multi-talented. I really wish that she would learn to be more of an artist.

I didn't particularly care for ["Roman's Revenge"], but when Eminem came in I liked it. He made the song. [Nicki] didn't have to go there with [Lil' Kim]. My views on that is that she came too far to go back that route. And Kim does not even have to go there. There are no comparisons to them. Some things are best left unsaid. The whole things is stupid. I'm very disappointed that she would go that route. 'Cause I know all that she was taught. She don't have to go there with anybody. That was the stuff we always discussed. People had to learn to love Nicki— that's how the door opened up. It wasn't about Kim or Foxy or any of the rest of them. So I was just a little disappointed [by her album], but If she likes it, I love it.

Source: VIBE
Wow! Tell 'em how you REALLY feel Ms. Deb!! (LOL)
Thoughts?
Be the first to receive breaking news alerts and more stories like this by subscribing to our mailing list.