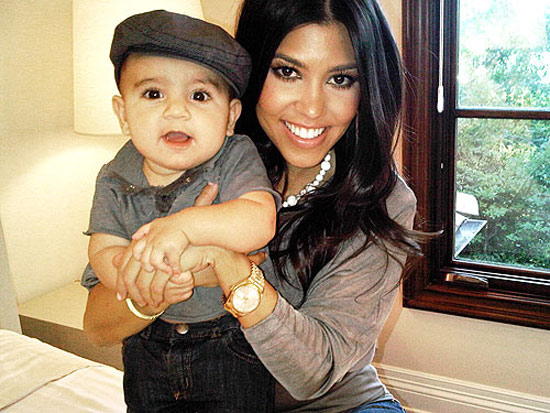 Kourtney Kardashian recently had a bit of a scare when her 11-month-old son Mason had an allergic reaction to peanut butter….and was rushed to the hospital immediately afterwards.
The celebrity socialite took to her blog yesterday to discuss the incident and let everyone know that the young lad is doing just fine now.
Friday night Mason ate some peanut butter and had a little allergic reaction to it. He threw up within minutes of tasting it and got hives on his face. I called 911 and the fire department came immediately. They suggested that we take him to the hospital, so we did. He was in good spirits the whole time and didn't even know anything was wrong. He even enjoyed riding in the ambulance. He's such a good boy!!

I learned such a lesson with this…to always follow my instincts and call 911. Always better safe than sorry.

The creepy part is…WHO took those pictures and video I've seen online from outside our house?
We're glad to hear everything is okay….but peanut butter? Who gives an 11-month-old peanut butter? You're not supposed to give children under the age of 2 peanut butter to prevent situations like Kourtney's….
Be the first to receive breaking news alerts and more stories like this by subscribing to our mailing list.