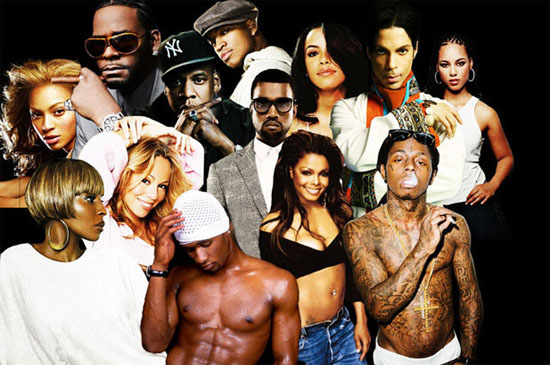 Billboard's new music column The Juice is paying homage to 50 artists/groups that have paved the way for R&B/Hip-Hop music over the past 25 years. At the top of the list is R&B singer R. Kelly, who beat out 49 other acts for the spot, including Whitney Houston, Mariah Carey, Mary J. Blige, Michael Jackson and others.
R. Kelly crowns our list of the top 50 R&B/hip-hop artists of the past 25 years with good reason. Since January of 1985, he's amassed 35 top 10 hits on R&B/Hip-Hop Songs (the most of any act in the time frame) and a total of 84 charting singles. Among those are 11 No. 1s, including "Bump N' Grind" (12 weeks at the top) and "Down Low (Nobody Has To Know)" (seven weeks) with Ronald Isley. Further cementing Kelly's hitmaker status is his staggering 11 No. 1s on R&B/Hip-Hop Albums. The R&B icon continued to post new chart achievements in 2010, as he notched his 56th top 40 single with "When a Woman Loves." (Billboard)
According to Billboard, the list was based actual statistical performance on the Billboard Hot R&B/Hip-Hop Songs and Top R&B/Hip-Hop Albums charts from January 5th 1985 up until November 6th 2010.
Hit the link below to check out the top 10 and to see who else made the cut!
Top 10:
1. R. Kelly
2. Mary J. Blige
3. Whitney Houston
4. Mariah Carey
5. Janet Jackson
6. Usher
7. Luther Vandross
8. Jay-Z
9. Freddie Jackson
10. Alicia Keys
Honorable Mention:
13. Michael Jackson
14. Ludacris
15. Beyonce
20. T.I.
21. Lil Wayne
24. Monica
27. Aaliyah
28. 50 Cent
29. Keyshia Cole
37. Snoop Dogg
38. Eminem
39. Nelly
41. Ne-Yo
45. Kanye West
46. Chris Brown
This list also includes Bobby Brown, Sade, Babyface, Gerald Levert, Stevie Wonder, TLC, New Edition, Anita Baker, 2Pac, Prince, Keith Sweat and several other R&B/Hip-Hop acts.
Your thoughts?
Be the first to receive breaking news alerts and more stories like this by subscribing to our mailing list.