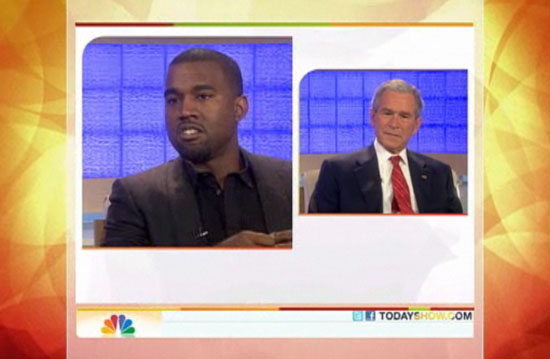 After hearing Kanye West apologize for calling him a racist, former President George W. Bush says that he forgives the rapper for saying that he doesn't care about black people.
Back in 2005 at a Hurricane Katrina relief fundraiser, Kanye declared that "George Bush doesn't care about Black people." And in his book, the former president wrote that Kanye West accusing him of being a racist was an "all-time low" during his presidency. In a recent interview with Matt Lauer (which according to Yeezy, didn't go so well), Kanye said that he empathizes with Bush (having gone through a similar situation with the Taylor Swift incident), and apologized for calling him a racist.
"I didn't have the grounds to call him a racist," West said in a video clip Matt Lauer showed to Bush. "I believe that in a situation of high emotion like that we as human beings don't always choose the right words."
Bush accepted the rapper's apology, while mentioning that others also came down on him for purportedly mishandling the Hurricane Katrina situation. He says he just used Kanye as an example:
"I appreciate that," Bush said of the apology. "It wasn't just Kanye West who was talking like that during Katrina, I cited him as an example, I cited others as an example as well. You know, I appreciate that. … I'm not a hater," he continued. "I don't hate Kanye West. I was talking about an environment in which people were willing to say things that hurt. Nobody wants to be called a racist if in your heart you believe in equality of races."
Be the first to receive breaking news alerts and more stories like this by subscribing to our mailing list.