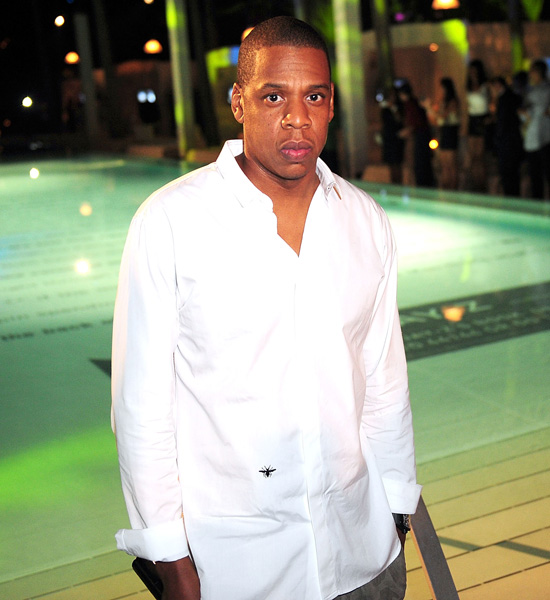 Jay-Z has always been pretty private when it came to his personal life. But the rapper is opening up in a big way with his new book "Decoded," a first-person memoir (over 336 pages) that includes a rundown his life from his childhood in Brooklyn's Marcy Projects to his years as a drug dealer to becoming a world-famous hip-hop superstar.
The NY Post was able to snag a few excerpts from the book, where Jay-Z talks about dealing crack for 60 hours straight, getting high with Biggie, his relationship with his father, meeting Oprah, making friends with President Obama, and much more. Hov even touches on a 1999 incident when he "blacked out" and stabbed someone out of anger. Check out a few of the revealing excerpts below:
Dealing crack as a teenager and getting arrested for the first time:
Although he was starting to find his voice as a rapper, young Shawn didn't have a story yet. But all that changed when crack hit the inner city. His neighbors became crackheads before his eyes. And Jay-Z started dealing to them.

"Authority was turned upside down," he writes. Kids his age began selling crack to pay their mothers' electric bills. They were armed with automatic weapons. Jay-Z started hustling crack at 13, and eventually would have his own crew in Trenton, NJ, and later in Maryland. He was still writing rhymes, but he made his living slinging crack. And he would spend the rest of his life writing about the more than 13 years he spent dealing drugs.

Jay-Z's first arrest came at age 16. He was dealing in Trenton, because his friend "Hill" had a supplier there. Hill had enrolled in the local high school, and one day when Jay-Z went to meet him, he got caught with crack in his pockets on the campus. Since he had no prior arrests, the police let him go, but they confiscated his supply. In order to make up the cash to the supplier, Jay-Z had to go back to Marcy and deal crack 60 hours straight — three days in a row, he writes. He kept awake by "eating cookies and writing rhymes on the back of brown paper bags."
Getting away from the police (and a K-9 unit) with crack in the car:
Soon Jay-Z was onto bigger deals. He and his crew traveled up and down the East Coast, sourcing and unloading drugs. Jay-Z recounts the time, in 1994, when he was driving down I-95. He had a stash of crack in a fake compartment in the sunroof of his Maxima when he got pulled over by cops for "no good reason." The police knew they couldn't search his car without probable cause, so they called the K-9 unit — the dogs would be able to sniff out the drugs. But the unit didn't show up, and the cops had to let him go. A minute later, he saw the K-9 unit speeding down the highway in the other direction, but too late — he was already home free. It's a moment he would later recount in his 2004 hit song, "99 Problems" with the lyric: "I got 99 problems but a bitch ain't one." At the time, Jay-Z was slammed for the misogynistic use of the word "bitch" — but, as he reveals in his book, he was actually referring to a female dog, or the dogs that never caught up to him that day. "It would have changed my life if that dog had been a few seconds faster," he writes.
Pleading guilty to stabbing record producer Lance Rivera:
Jay-Z glosses over his 1999 stabbing of record producer Lance Rivera, which resulted in the rapper pleading guilty to assault and receiving three years probation. He says he was infuriated because someone had leaked a bootleg copy of "Vol. 3 . . . Life and Times of S. Carter" more than a month before the release date of the album. When he asked who was behind the leak, everyone kept repeating the same name: Rivera. When Jay-Z saw him at rapper Q-Tip's album release party at the Kit Kat Klub, he confronted him. Rivera "got real loud with me right there in the middle of the club," Jay-Z writes, "It was strange. We separated and I went over to the bar . . . I was . . . in a state of shock . . . I headed back over to him, but this time I was blacking out with anger."

After this, chaos ensued in the club, "That night the guy went straight to the police and I was charged with assault." He says he decided to plead guilty after watching Puff Daddy's trial on weapons violations that same year. Puffy was acquitted, and Jay-Z says he feared the state would be harder on him after failing to convict his friend. "The hilarious thing," he writes, "if any of this can be considered funny, is that the Rocawear bubble coat I was wearing when they paraded me in front of the cameras started flying off the shelves the last three weeks before Christmas."
Lying to get clearance for Orphan Annie's "Hard Knock Life" song:
When Jay-Z recorded the song "Hard Knock Life" in 1998 — which made him a breakout star — he borrowed from the story of Little Orphan Annie. He said he found a "mirror" between his life and that of Annie's. "The song was the place where our experiences weren't contradictions, just different dimensions of the same reality." But first, he had to get clearance from the "Annie" franchise to use the "Hard Knock Life" chorus in his anthem. Initially, he was turned down. So he wrote the company a letter, making up a tale about how, when he was in the seventh grade, his teacher held an essay contest. The prize: A trip to the city to see "Annie." This was, he writes, "A lie. I wrote that . . . I felt like I understood honey's story." The company believed Jay-Z's tale and cleared the rights to what became his first mega-hit.
Getting high with Biggie:
Biggie made a cameo appearance in the 1996 video for "Ain't no N*ga," which Jay-Z was filming with Foxy Brown in Miami just when he started to break. Jay-Z says he looked down on smoking pot as counterproductive, and only did so on vacation. "I could count the number of times I'd smoked trees," he writes. But when Big asked him to smoke, he said to himself, "Relax, you're not on the streets anymore." So he smoked, and got stoned out of his mind just before the video started shooting. Laughing at his formerly sober friend, Biggie leaned in and whispered in Jay-Z's ear: "I got ya." It took Jay-Z 20 minutes in his room to gather his wits. Later he told his friend: "Never again my n*gga."
Reuniting with his dad 3 months before he died:
The song "Moment of Clarity" deals with the abandonment by his father when Jay-Z was 11. He says he realized only later that his father, Adnis Reeves, began to unravel after his brother, Jay-Z's Uncle Ray, was murdered outside a Brooklyn club and the cops never found the killer. "My dad swore revenge and became obsessed with hunting down Uncle Ray's killer. The tragedy — compounded by the injustice — drove him crazy, sent him to the bottle, and ultimately became a factor in the unraveling of my parents' marriage." He only reunited with his dad, at his mother's urging, three months before his dad died of liver disease in 2003. But he writes, "By the time he left, he'd given me a lot of what I'd need to survive."
Meeting Oprah:
Jay-Z first met Oprah Winfrey at a dinner party. Winfrey disavows hip-hop for its violence, but the two got to talking and it came up that Jay-Z had read "The Seat of the Soul," "a book that really affected the way I think about life," he writes. Oprah had also read the book, which is about the power of positive thinking. The book's author, Gary Zukav, had been a guest on her show a few times. "Oprah expressed surprise that I also was a fan of his work. She didn't expect that of a rapper," he writes.
Making friends with President Obama:
A friend of President Obama's helped set up a meeting with Jay-Z in 2008, he says. The two talked for hours. "I wish I could remember a specific moment when it hit me that this guy was special. But it wasn't like that," he writes. "It was the fact that he sought me out and then asked question after question about music, about where I'm from, about what people in my circle — the wider circle that reaches . . . all the way back to Marcy — were thinking about politically."

When Beyoncé sang at the inauguration, he writes, he watched from the audience instead of backstage so he could "feel the energy of everyday people. It was unbelievable to see us — me, Beyoncé, Puff, and other people I've known for so long — sharing in this rite of passage."
Sounds like Jay-Z has had a pretty interesting life to say the least! "Decoded" is due in bookstores November 16th.
Be the first to receive breaking news alerts and more stories like this by subscribing to our mailing list.