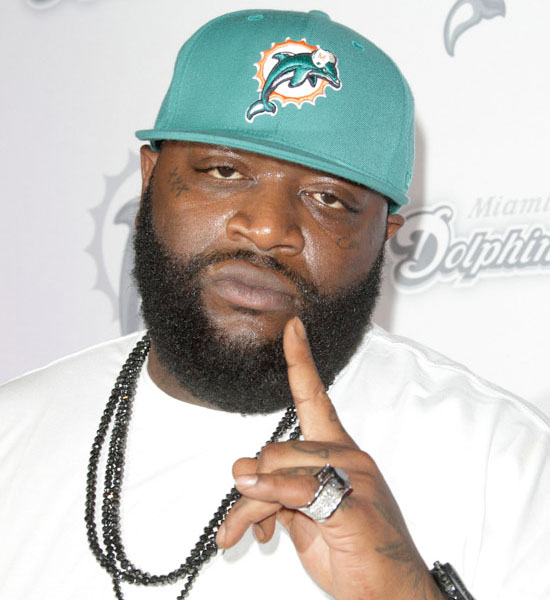 Rick Ross won't be having to change his name after all!
According to AllHipHop.com, a multi-million dollar lawsuit filed by Freeway "Ricky Ross" against the rapper was dismissed in court Monday. Read more about Rick (the rapper)'s victory in court below…
In May of 2010, "Freeway" Ricky Ross announced he would file a $10 million trademark infringement lawsuit against rapper Rick Ross, Jay-Z, Def Jam and Universal Music Group, for allegedly illegally profiting off of his name.

The lawsuit, filed in the United States District for Southern California, claimed the rapper, born William Leonard Roberts II, infringed on Freeway Ricky's intellectual property rights by using the name to market his music. Freeway Ricky claimed Rick Ross' image was based largely on his real life image as a former cocaine boss that moved thousands of kilos of crack cocaine in Los Angeles during the mid 1980's and early 1990's, before being caught up in the infamous Iran-Contra Scandal.

The lawsuit claimed that Freeway Ricky Ross' real name had "secondary meaning" and value in commerce, due to his name being exploited in magazines, television specials and movies, like 100 Kilos.

It was that very fact that resulted in his lawsuit being dismissed. "In support of his trademark claims, Plaintiff alleges that his name was well known in the drug trade and by law enforcement segments of the urban crime, rap and black comity because he did business as Rick Ross, until he was arrested, prosecuted and incarcerated in federal prison. Because this illegal activity cannot be used to establish secondary meaning, such allegations do not provide support for Plaintiff having a valid trademark for his name."

Jay-Z was named in the lawsuit because he signed Ross to Island Def Jam in 2006, while he was President of the label. Since then, Rick Ross has released four hit albums: Port of Miami (2006), Trilla (2008), Deeper Than Rap (2009) and Teflon Don (2010). It is unlikely that an appeal to the ruling will get far.

According to the ruling, the "plaintiff has alleged facts and made arguments that destroy any possibility that he has any valid trademark rights in his name, that have been violated by defendants." Freeway Ricky does have the right to appeal the ruling in a State court, within 30 days.
Congrats Rick! Now you don't have to change your name to "Ricky Rozay" or anything like that…
Be the first to receive breaking news alerts and more stories like this by subscribing to our mailing list.