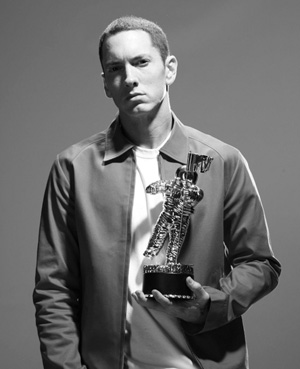 MTV ranks the top rappers in Hip-Hop every year, and this year, they've chosen Eminem as the #1 MC in the game! The rapper beat out his friends Jay-Z (#2) and Kanye West (#3) for the title, which was announced earlier this week on MTV.com:
Even though Marshall Mathers sold 608,000 copies of 2009's Relapse in its first week, the project was panned by critics and longtime Em fans. They said he rhymed in too many weird voices, that the production sounded dated and that the subject matter was too grim. The LP didn't make enough of an impact, and there really wasn't much buzz around Eminem to even warrant him making the Hottest MCs list last year.

This year, however, was totally different. Eminem pretty much dominated 2010 from start to finish, and the MTV News Hip-Hop Brain Trust voted him the #1 Hottest MC in the Game. "Obviously, the last album was lackluster," mtvU's Yomi Desalu said during the Hottest MCs roundtable discussion. "I think he recognized that, not being on the board last year."
Other rappers featured on the list of 10 include Ludacris, Drake, Lil Wayne, Nicki Minaj and even Waka Flocka Flame (huh?). Peep the full list (in order) below…
1. Eminem
2. Jay-Z
3. Kanye West
4. Drake
5. Rick Ross
6. Nicki Minaj
7. Lil Wayne
8. Waka Flocka Flame
9. B.o.B
10. Ludacris
MTV should slap themselves (twice) for putting Ludacris at the bottom like that and even considering Waka Flocka Flame at all!! SMH…
Be the first to receive breaking news alerts and more stories like this by subscribing to our mailing list.