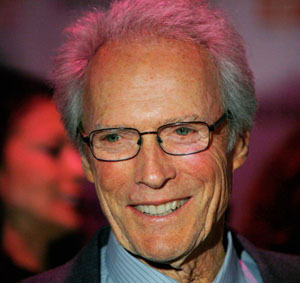 Legendary actor Clint Eastwood says he's "not a fan" of President Barack Obama's work and believes that the country is currently in a "financial mess."
The 80-year-old recently sat down with CBS news anchor Katie Couric to talk about his new film "Hereafter" (starring Matt Damon and hitting theaters Friday), and when the topic got on Obama, Clint shared his thoughts on how he thinks the President is doing right now.
Peep what he said below…
Talk about the Obama starts at 18 minutes…
"I think he's a nice fella and I enjoyed watching him come along and I enjoyed watching him campaign and win the job but I'm not a fan of what he's doing at the moment because I just don't think he's governing," Eastwood said. "I don't think he's surrounded himself with the people he could have surrounded himself with.

"He's having to just lay out a certain line and hope people will believe it so he can stay in the position," added Eastwood, a former mayor of a small town in California and known McCain supporter. "I don't think there's anybody I see out there, or many people that have that kind of discipline, that are willing to take a chance on losing.

"I think that we've gotten ourselves into a financial mess that is going to be really bad if we're not careful," Eastwood continued. "I mean it's bad right now. I don't think there's too many people out there making sense at the moment."
Somebody tell this old geezer to sit down, shut up and go find an oxygen tank to choke on! We kid, we kid. But really, if he thinks he can do a better job, then maybe he should run for the 2012 election. Age ain't nothin' but a number!
Be the first to receive breaking news alerts and more stories like this by subscribing to our mailing list.