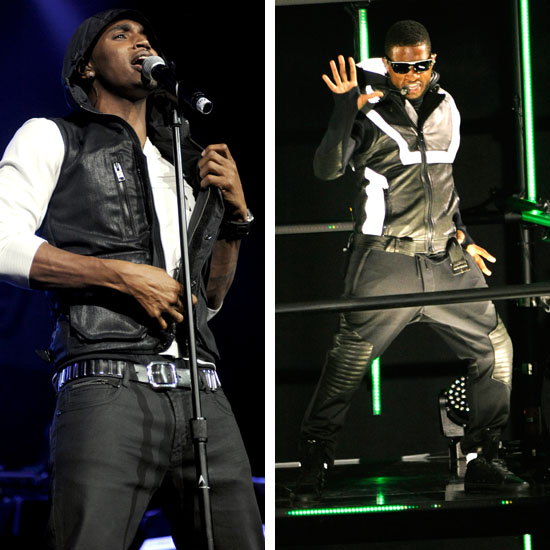 After touring with both Jay-Z and Monica (separately) earlier this year, Trey Songz is ready to hit the road with Usher!
The R&B crooners are due to tour the country together for Usher's "OMG" Tour starting this November. And before Trigga hit the stage last Tuesday night (Oct 5) at the "So Kodak" event in New York City, our friends over at Rap-Up sat down with him to talk about the tour. Check out what he said, along with dates below!
How did you link up with Usher?
Well, Usher and I first started collaborating work-wise on the "I Invented Sex (Remix)," but we've known each other for a while and he's always been someone I could come to for advice. Furthermore, he's paved the way for guys like myself to even do what we do. So to go on tour with Usher, who's now at iconic status—I believe—and for me to be involved and to know that I mean something to the tour is an amazing feeling.

What kind of influence has he had on your career?
Well Usher was one of the first young sex symbol kind of artists of my generation. It's because of guys like him that I'm even able to do this.

What are your favorite Usher songs?
"Nice & Slow," some of the earlier Usher stuff, "You Make Me Wanna…" and "Burn." He's had hit after hit after hit after hit.

How is this going to be different from your last tour?
You're going from theaters to arenas and you've got me sharing the crowd with Usher. Different things go into the mind when preparing for the show.

I'm sure the audience will be packed with ladies…
Yeah. Ladies galore [laughs].

Lots of panties onstage…
That's what we aim for. Woo!
TOUR DATES FOR THE "OMG" TOUR
Nov. 10 – KeyArena – Seattle, WA
Nov. 12 – Oracle Arena – Oakland, CA
Nov. 13 – Mandalay Bay Garden Arena – Las Vegas, NV
Nov. 14 – Honda Center – Anaheim, CA
Nov. 17 – San Diego Sports Arena – San Diego, CA
Nov. 18 – Staples Center – Los Angeles, CA
Nov. 19 – Jobing.com Arena – Glendale, AZ
Nov. 23 – Toyota Center – Houston, TX
Nov. 24 – American Airlines Center – Dallas, TX
Nov. 26 – Scottrade Center – St. Louis, MO
Nov. 27 – Sprint Center – Kansas City, MO
Nov. 29 – Air Canada Centre – Toronto, ON
Nov. 30 – Centre Bell – Montreal, QC
Dec. 2 – TBD – Detroit, MI
Dec. 3 – Allstate Arena – Chicago, IL
Dec. 5 – Phillips Arena – Atlanta, GA
Dec. 7 – Greensboro Coliseum – Greensboro, N.C.
Dec. 8 – 1st Mariner Arena – Baltimore, MD
Dec. 8 – Prudential Center – Newark, NJ
Dec. 11 – Scope Arena – Norfolk, VA
Dec. 13 – Madison Square Garden – New York, NY
Dec. 14 – TD Garden – Boston, MA
Dec. 16 – Wells Fargo Center – Philadelphia, PA
Dec. 17 – Verizon Center – Washington D.C.
Dec. 18 – XL Center – Hartford, CT
Via: Rap-Up
Be the first to receive breaking news alerts and more stories like this by subscribing to our mailing list.