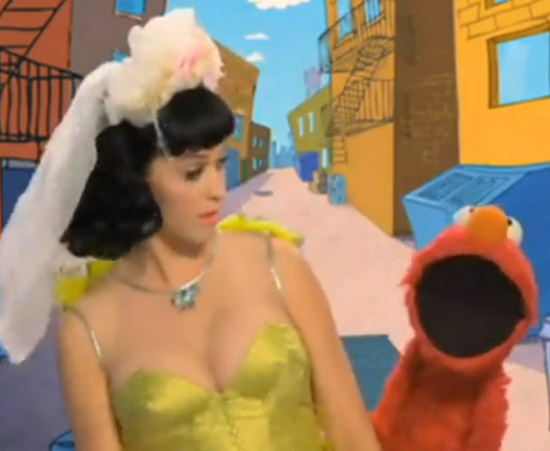 Katy Perry made light of her recently being axed from an upcoming episode of Sesame Street by joking about it with her fiance Russell Brand on Twitter.
Katy had filmed a segment with Elmo for the children's show to be aired on New Year's Eve, however when the clip leaked online and was posted to YouTube, it ended up receiving a ton of negative comments & complaints from parents who didn't feel like their young children should be getting an up close and personal view of Katy Perry's breasts.
Bosses for Sesame Street decided it'd be best to cut the segment from the show after the negative press it received, and upon hearing the news, Katy tweeted:
"Wow, looks like my play date with Elmo has been cut short! If you still wanna play see it at www.katyperry.com Tag you're it, Elmo!"
The pop star's fiance Russell Brand later chimed in and shared his own opinion on his future wife being nixed from Sesame Street:
"@katyperry today's Sesame Street will NOT be brought to you by the number 34 or the letter D. @katyperry Can you tell me how to get, how to get to Sex-with-me Street?"
Check out Sesame Street's official statement on Katy Perry's segment being removed from the show below:
"Sesame Street has always been written on two levels, for the child and adult. We use parodies and celebrity segments to interest adults in the show. In light of the feedback we've received on the Katy Perry music video which was released on YouTube only, we have decided we will not air the segment on the television broadcast of 'Sesame Street', which is aimed at pre-schoolers. Katy Perry fans will still be able to view the video on YouTube."
Be the first to receive breaking news alerts and more stories like this by subscribing to our mailing list.