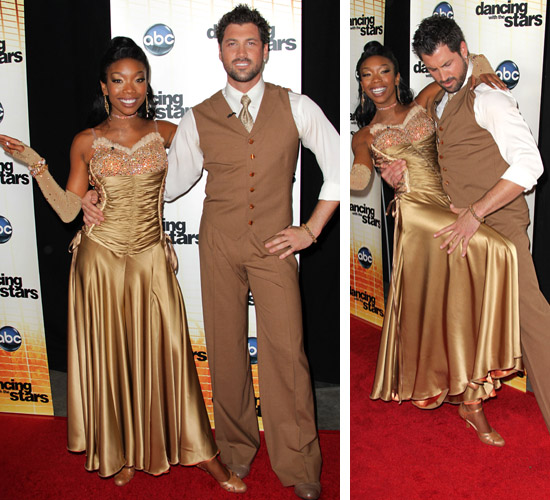 Brandy made her big debut on ABC's "Dancing with the Stars" this week on the show's 11th season premiere alongside her dance partner, choreographer Maksim Chmerkovskiy, and the two performed a Viennese Waltz to Pixie Lott's "Cry Me Out," which earned the pair a 23/30 score. Judge Lem Goodman called Brandy "fabulous" as he gave the R&B singer his score and review of her performance.
But "don't believe the hype" Brandy says. This dancing thing is hard work as it's all new to her! The 31–year-old entertainer told PEOPLE:
"I'm freaking out. Dance has never been one of my strongest points. [If] you don't have the dance talent, you have like five people behind you making you look good. So don't believe the hype. This is all new for me."
Instead of back-up dancers though, Brandy is relying on her partner Maksim Chmerkovskiy, who she says really helps her to stay on track.
"He's hot so that helps! What's so crazy is that Maks was born on the same day as my brother [Ray J] . . . and I'm born on the same day as his mother. So I kind of feel like we were meant to be partners and I'm meant to do this show."
Catch Brandy next Monday (Sep 27) on Dancing with the Stars when it airs on ABC at 8/7c and in case you missed it, check out her performance from this week below!
Be the first to receive breaking news alerts and more stories like this by subscribing to our mailing list.