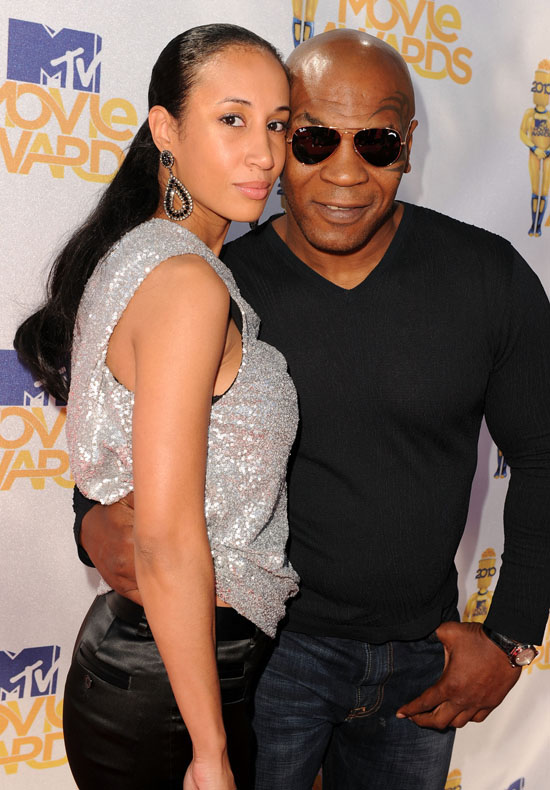 Mike Tyson and his wife are expecting!
Lakiha Spicer, whom Tyson married in June 2009 (just two weeks after his 4-year-old daughter's tragic death) is 5 months pregnant with the former championship boxer's 8th child, according to Radar Online.
"Lakiha and Mike are expecting a baby boy," a source close to the ex-heavyweight champ told RadarOnline.com. The child will be Tyson's first after the shocking death of his four-year-old daughter Exodus, who died in May, 2009 after a tragic accident. The girl suffocated after she either slipped or put her head in the loop of a cord hanging under a treadmill's console in her Phoenix home. The fighter, 44, got married 10 days later to Lakiha, 32, in a private ceremony at the La Bella Wedding Chapel at the Las Vegas Hilton hotel.

Last week, Tyson was photographed taking the couple's two-year-old daughter, Milan, to a film premiere in Las Vegas. During the weekend, he and his pregnant wife were spotted dining with friends at Palms Casino & Resort. In May, the fighter revealed he is living paycheck to paycheck when he was a guest on talk show The View. He said, "I'm totally destitute and broke. But I have an awesome life, I have an awesome wife who cares about me. I'm totally broke. I had a lot of fun. It (going broke) just happened. I don't deserve to have the wife that I have; I don't deserve the kids that I have, but I do, and I'm very grateful."

Tyson was previously married to actress Robin Givens in 1988 and Monica Turner in 1997. His first marriage ended after one year after Givens filed for divorce and said in a nationally televised interview that she was afraid of Tyson. His marriage to Turner lasted five years.

Source: Radar Online
After such a troubled past, we're glad to see that Mike Tyson has turned his life around! And congrats to him and his wife on the new baby!!
Be the first to receive breaking news alerts and more stories like this by subscribing to our mailing list.