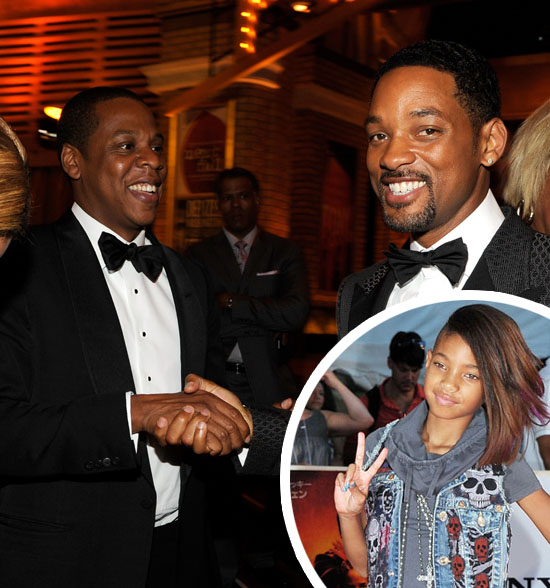 Well that was quick……
Earlier this week when Willow Smith released her new song "Whip My Hair," (LISTEN HERE) people were already talking about her possibly being singed to Jay-Z's new Roc Nation record label, and now we can officially confirm that the 9-year-old starlet is officially a Roc Nation artist!
Jay-Z hit up On Air with Ryan Seacrest this morning (Thurs. Sep 9) and confirmed rumors that Willow Smith has been added to his list of artists on Roc Nation. He told Ryan and the rest of his radio crew: "I heard the record first before I knew that it was recorded by a nine year old and I was like man that record's a smash. I believe in superstars. I believe on big records on superstars and I think she has both."
In a statement sent to All Hip Hop, Jay-Z also said:
"We at Roc Nation are excited to work with Willow. She has an energy and enthusiasm about her music that is truly infectious. It's rare to find an artist with such innate talent and creativity at such a young age. Willow is about to embark on an incredible journey and we look forward to joining her as she grows in all aspects of her career."
Willow's parents, Will Smith & Jada Pinkett Smith also spoke with the Hip-Hop website and told them why they allowed their little girl to sign with Jay-Z's record label:
"After meeting with several record companies, it was clear that Jay-Z, Ty Ty, Jay Brown and the Roc Nation staff was the unquestionable choice. Their passion for Willow combined with their boundless vision and artistic integrity made Roc Nation the perfect home for our little girl."
Roc Nation hasn't set a release date for Willow's debut project just yet, but we'll keep you posted!
Congrats Willow!!!
Could Willow end up being the female version of Justin Bieber? Thoughts???
Be the first to receive breaking news alerts and more stories like this by subscribing to our mailing list.