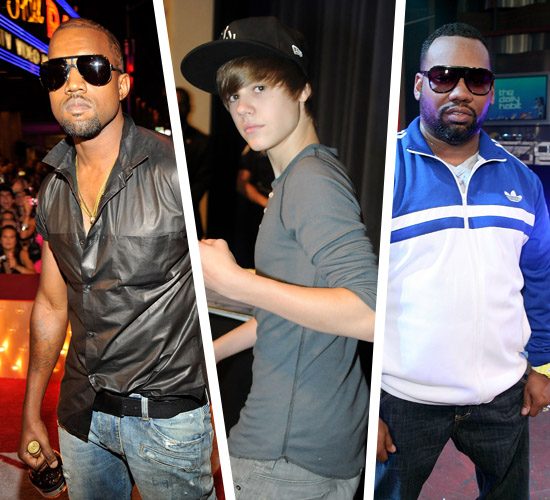 Kanye West, Justin Bieber……and Raekwon? Looks like the collaboration between the three artists will go down for real, thanks to Twitter!
Earlier this week, Kanye West and Justin Bieber went back and forth on Twitter about how much they were fans of each other and how they loved each other's music, which eventually led to Kanye inviting the Biebz to hop on a track with him and Wu-Tang rapper Raekwon.
Kanye: "I'm honored that you like my Music @JustinBieber!!! You gotta hear the album. Maybe we can do something together. Me, You and Raekwon."

Justin: "Me, u, and the chef 2gether on a song = EPIC. Might sound crazy 2 u but even having this convo is living the dream. Thanks."
And late Tuesday night (Aug 17), Raekwon confirmed with XXL that the song is already in the works! Check out what he told the Hip-Hop magazine in a phonecall below:
"It's definitely gonna happen. When you got these kinda talents merging together to do something exciting, I think it's something that's gonna make the fans check it out. I'm big fans of both of these guys. I think, at the end of the day, shorty is a sensation. And [for him] to acknowledge me it makes me feel good that the young generation is checkin' me out like that. And at the same time it gives me a position to play a big brother in the game. He wants my assistance or whatever he can get it. I respect him, I like his style.

"Yeezy called me and we gon' make it pop. At the end of the day we're all doing our thing in the game and for them to even just have a conversation and just put my name in it it feels good…And we gon' make a hit. Justin got his own fan base and Me and Yeezy got our own fan base and we gon' make it happen. We gon' make a good record."

Source: XXL Mag
The next day (Wed. Aug 18), Kanye and Raekwon continued to talk about the collaboration on his Twitter as the pair were in the studio getting some work done.
Kanye: "Raekwon coming to the studio later 2day…"

Raekwon: "In the studio yall"
And early Thursday (Aug 19) Kanye tweeted once again mentioning he and Raekwon's collab with the teen sensation:
"Finishing @JustinBieber Runaway Love remix too… don't know when they gonna drop it but Raekwon's verse is crazy!!!"
We're still scratching our heads trying to picture how Raekwon will fit into the mix though. Guess we'll just have to wait and see…
Thoughts?
Be the first to receive breaking news alerts and more stories like this by subscribing to our mailing list.