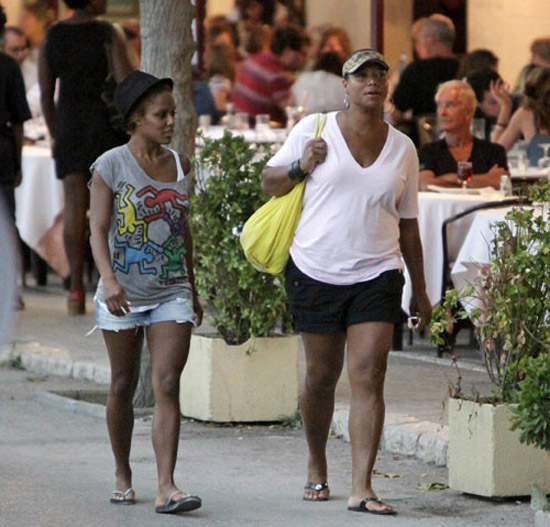 Well looky here…
A couple of weeks ago we posted pictures of Queen Latifah and her longtime "girlfriend," Hollywood trainer Jeanette Jenkins, all boo'd up and groping each other on a private yacht off the coast of France. The pair were spending some QT together alongside their newly married friends Alicia Keys and Swizz Beatz who were having their honeymoon at the time.
Well since then, Alicia and Swizzy have left Europe…..and apparently so has the Queen's "girl" Jeanette, because Queen Latifah was just spotted late last week sight-seeing in Spain with ANOTHER woman who we know was most definitely NOT Jeanette! According to paps on the scene, the two did a little sight-seeing and grabbed drinks in Barcelona, Spain before heading to La Santa Maria for a "romantic dinner."
…. Queen's a pimp! Juggling two women at once? Play on, playa! (LOL) Peep the pics of Queen Latifah and her mystery woman hanging out in Spain below…
Be the first to receive breaking news alerts and more stories like this by subscribing to our mailing list.