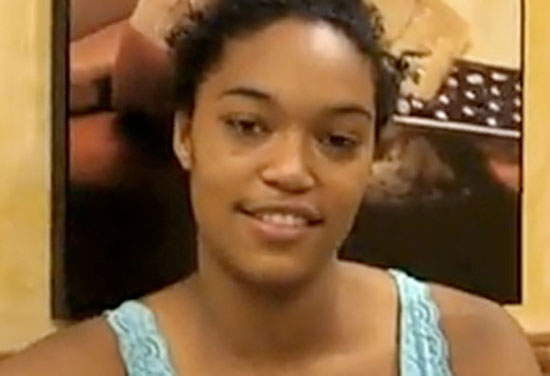 By now, anyone who frequents celebrity gossip blogs knows who Montana Fishburne is. If you're still lost, let's clear this up for you as best we can in one, extremely long sentence: Montana Fishburne is Laurence Fishburne's 19-year-old daughter who has decided that she's going to do porn with popular adult film company Vivid Entertainment so that she can be famous like Kim Kardashian, whose sex tape with Ray J was released by Vivid a few years back.
We couldn't make this up if we tried…
Now, we've heard from people close to the situation, but now that her career as an adult entertainment star has taken off somewhat, Montana is finally speaking up for herself (via AOL Black Voices) and talking about a lot of things, like what her mother and father think about her new-found fame as an up and coming porn star, how much Kim Kardashian inspired her, her association with male porn star Brian Pumper, how she got into the porn industry and tons more.
Peep the lengthy (but VERY interesting) interview  below:
Black Voices: To what do you attribute to all the hysteria?
Montana Fishburne: People are going to talk no matter what. I'm excited that people are talking about it. I hope everything turns to more positive. I mean, they should be more excited about new porn coming out. I haven't seen a young black female porn star in a long time.

BV: How much did you make off of this? Was it six figures?
MF: I don't know.

BV: Well, everyone wants to know what your father thinks about it?
MF: I mean, I haven't talked to him directly yet. We have conflicting schedules, so it's been hard. But, he's upset. I hope he supports me. But as soon as I talk to him, you guys are going to hear something.

BV: Why do you think he would be upset?
MF: I mean, no one wants to see their daughter have sex on TV. Fathers are usually upset when they hear about their daughters losing their virginity. So I don't think he wants to see it blasted across the world. This is something I wanted to do; it's a goal that I had. I think he'll be proud that I accomplished one of my goals. So if I'm happy, I'm sure that he'll be happy, too.

BV: How long have you wanted to do this?
MF: Since I was in high school. It's been a little secret of mine.

BV: Well, since you bought up virginity when did you lose yours?
MF: I lost my virginity when I was 16.

BV: How has Kim Kardashian really influenced you?
MF: She inspired me to go to Vivid. I always wanted to do porn. That was a given. So when I decided to start getting in to it, to see how I was going to go about it, I looked to her. Kim Kardashian released her sex tape with Vivid. Paris Hilton, Kendra Wilkinson, Pamela Anderson, all these people. And they're well known for having celebrity sex tapes. And Kim's is the one that did the best. Not did the best, but I felt like she got the most hype and buzz out of it. And she decided not to do porn. I want to do another film. And if I do decide to go mainstream, I feel releasing porn with Vivid is the best company to do it with, because they have other avenues that they deal with. I'm loving Vivid right now. They're the best.

BV: Now what's your association with Brian Pumper? He's saying that you have another movie coming out?
MF: I did a music video for him, but with my porn career, I'm focusing on Montana Fishburne with Vivid. That's what it is. The whole Brian Pumper thing, I look at it as a mistake honestly. And I'm trying to get away from that and focus on Vivid and the release of this movie.

BV: So were you known as Chippy D when you were with him?
MF: No, that was for a music video. I knew him and that was it.

BV: Do you think Brian Pumper will have a rap career now that he has a video out?
MF: No, I don't think his music appeals to the mainstream.

BV: When are we going to see you and him in action?
MF: Me and Brian are no longer in contact.

BV: Do you think he's exploiting you?
MF: Yes, I feel taken advantage by Brian Pumper. I don't really want to go into details about the situation. Jeremy [Greene, an aspiring porn actor], he feels for me, he knows how I feel about it. He has talked to Brian, and they have dealt with each other, because I don't even want to deal with him anymore. I'm not in contact with Brian Pumper, and I'm just trying to get rid of the situation.

BV: Who is Chippy D, what does that stand for?
MF: I've been Chippy D forever. That's just something that I had as I was growing up. I was chippy and really happy.

BV: Now, who's Jeremy Greene?
MF: Jeremy Greene, that's my boyfriend. I met him when I was in high school through a mutual friend. I went to New Roads in Santa Monica and he went to Fairfax.

BV: And he's a porn star also named J Pipes?
MF: Yes. There is footage of me and him, but it's not released yet. I don't know when it's going to come out, but people should look forward to seeing us together.

BV: Now, you were busted for hooking. Is that true?
MF: No, I have a trespassing conviction but not hooking. I have a trespassing charge from November, that's what it was for. Trespassing.

BV: What do you think of people's feedback saying that you're tarnishing your father's name?
MF: I mean, people are going to say what they're going to say. It hurts that people are thinking that I'm doing this to shame my father. That is not true. He's an actor. When he was playing Ike Turner, he was beating a woman, I didn't feel bad about it because he was acting. Porn is something that I wanted to do; acting is something that he wanted to do. So it's not to shame him; it's something on my own. I feel like they should want to encourage me and support me and be happy because it's not degrading to me. If it was leaked how all these other peoples are, I would feel ashamed about it. But I'm not. It's something that I'm proud of. I'm proud of my body, and I'm proud of my work and the performance that I gave. So all the people sending out negatives should find a different way to look at it and be happy for me.

BV: So where did you learn all those tricks in the DVD?
MF: From my boyfriend. We have a lot of fun together. I like to have fun and he likes to have fun and experiment. We have a healthy sex life, and it came in handy when it came to shooting this video.

BV: What did your mother think of the video?
MF: She's not happy, but she wants me to be happy. She's more concerned with if I'm ok. I love my mom so much. She's supportive. I'm happy that she's not dying over this. My mom is more conservative than my dad is.

BV: How have the offers been since the news broke that you were doing this tape?
MF: Pretty good. I got some offers for all kinds of things. But I'm not making any decisions on too much now. I really want this video to come out first.

BV: So when you're not having sex on camera what else do you like to do?
MF: Normal day-to-day stuff. I love the beach. I'm at the mall. I love to shop.

BV: What do you see for yourself in 10 years?
MF: In 10 years, I'll be 29 years old. I hope to have a business. I don't know what kind yet, but I'm into spas, hair and nail shops. My mother has fitness centers in Westchester. So I want to have my own businesses as well as continuing in entertainment.

BV: Are there more Vivid projects in the works?
MF: Yes, I've been talking to them about releasing a second movie. If and when I release my second movie for Vivid, I want it to be totally different. It's still going to be Montana Fishburne, but you'll see a new concept.

BV: What encouraging words would you give women that have to resort to prostitution and sex?
MF: I mean, I would never want to encourage anyone to resort to prostitution and drugs. But I feel if there's young women out there who are free-spirited like me and enjoy their body and are not ashamed — and have dreams that people look down on — don't be afraid of them. And just pursue your dreams even if people have their ideas about it. And be true to yourself.

Source: AOL Black Voices
That poor …. poor, confused child. We should all do her a massive favor and pray for her every night as we go to sleep, SMH…
Be the first to receive breaking news alerts and more stories like this by subscribing to our mailing list.