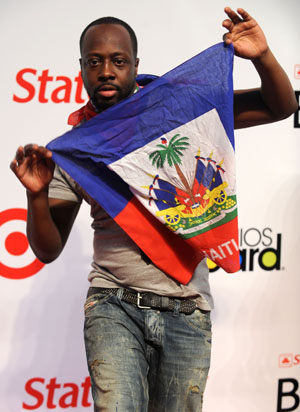 In a few months you might be putting "President" in front of Wyclef Jean's name.
Why? Because the award winning producer/musician is seriously considering running for president of his native Haiti.
"I can't sing forever," Jean told CNN after admitting that talk of a campaign is a little premature and he's still just thinking about running. He said that he's filled out all of the necessary paperwork though, just in case he does decide to hit the campaign trail in Haiti. A statement released by his non-profit foundation Yele Haiti said:
"Wyclef's commitment to his homeland and its youth is boundless, and he will remain its greatest supporter regardless of whether he is part of the government moving forward. At this time, Wyclef Jean has not announced his intent to run for Haitian president. If and when a decision is made, media will be alerted immediately. Please let us know if we can help with anything else."
Wyclef Jean has always been an outspoken representative for his home country through his Yele Haiti Foundation and was also one of the first celebrities to take action in Haiti after the devastating earthquake that happened back in January.
Haiti's current president Rene Preval is currently serving his second term and cannot run for a third. Elections are set to be held this November.
What do you think about Wyclef Jean running for President of Haiti?
Be the first to receive breaking news alerts and more stories like this by subscribing to our mailing list.