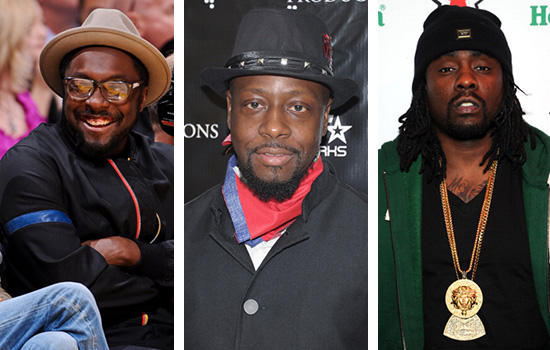 What do Wyclef Jean, Wale and Will.i.am all have in common? Not a damn thing, except for the fact that they are three black guys who make music. And not even the same type of music.
Amid Tuesday night's massive pile of election coverage is hilarious video footage of Miami news reporter Blake Burman who mistook Will.i.am for the wrong person not just once, but TWICE in a row on live television.
The first name flub happened while Will.i.am was giving an interview to another reporter a few feet away from Burman, who covers politics for WSVN 7 News.
As the camera turned to the BEP leader's direction, Burman, with a smile on his face, nodded and confidently said, "That's Wyclef Jean giving an interview."
Uhhhhh … wrong! That is NOT Wyclef Jean. And someone off-camera tried to tell him who it really was, but he still got it wrong: "Sorry, who? … Wale" he said. "Excuse me, Wale. Got my artists mixed up."
Wrong, again, sir. That is NEITHER Wyclef Jean NOR Wale. That is Will.i.am, which the guy finally gets right after two unsuccessful attempts.
"Will.i.am! Good grief am I tired," Burman said, obviously embarrassed. "It's Will.i.am. I'm sorry, I'm mixing up my artists here."
Yes you did mix up your artists. Twice!!!
Peep the hilarious live blooper blooper below:
Be the first to receive breaking news alerts and more stories like this by subscribing to our mailing list.