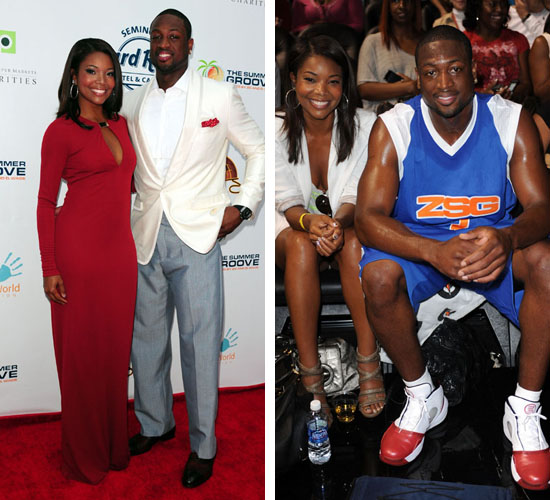 NBA star Dwyane Wade & his new girlfriend actress Gabrielle Union officially announced their status as a couple last weekend during Wade and Alonzo Mourning's annual "Summer Groove Weekend" in Florida.
The two were spotted walking hand-in-hand on the red carpet of the Summer Groove Benefit Dinner at the Seminole Hard Rock Hotel Saturday night (Jul 17) in Hollywood, FL and were also seen sitting court side together the next day (Sun. Jul 18) at the Summer Groove All-Star Basketball Game held in Miami at the American Airlines Arena. Dwyane even got bold enough to walk over to Gabby during halftime and planted a wet kiss on his newly announced girlfriend in front of over 10,000 people. Speaking on being able to finally be open with his new relationship, D.Wade said:
"It's nice to be able to just live your life and not really care about what people are going to say, and just be free," said Wade, who has also been fighting a lawsuit from a failed restaurant venture. "It is nice that you can just move on with your life. This summer's been real big for me for that. I've been getting a lot of things behind me — and God has continued to bless me — and a lot of it has been positive. It's been a two-and-a-half, almost three-years hardship. But now it's going away, and just don't get myself in anything like this soon and I'll be fine."
Other celebs spotted at the All-Star game were rapper/actor Common, pro boxer Floyd Mayweather Jr. and rapper Flo Rida who performed during halftime.
Check out 10+ pics below…
Be the first to receive breaking news alerts and more stories like this by subscribing to our mailing list.