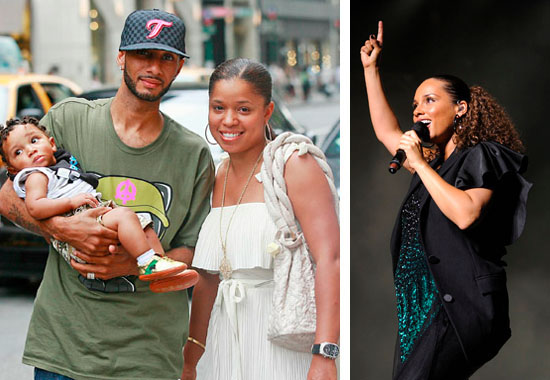 Swizz Beatz' ex wife Mashonda is finally opening up after months of drama and chatter surrounding Swizz leaving her to be with Alicia Keys, who is also pregnant with his baby and has his engagement ring on her finger. Mashonda told Vibe that it was important for her to have a sit-down with Alicia to see where each other was coming from, mainly because Alicia was going to be around her son and she wasn't fond of having folks she doesn't know around her kid.
Up until now, no one knew that Mashonda and Alicia Keys had a sit-down to talk about the situation and what-not. Here's what Mashonda told Vibe:
Vibe: I know it was very important for you to sit down with Alicia if she was going to be around your son. Safe to assume that happened?
Mashonda: When I wrote her that Twitter letter everybody wanted to say things like 'Oh, what do you need to meet her for? It's not her problem, it's Swizz's." I'm like, 'You have a kid, go through what I went through and then talk to me.' I'm not having my son around anybody I don't know. I don't give a [fig] who you are and how much money you have and what management he's going to be under when he visits you. I need to see you and I need you to see how serious I am about him. And that's what happened. We had to sit down, and I told her how I felt. I didn't mention anything else, it was all about my son and it was fine after that. I'm not going sit and talk to [them] about what happened between the three of us. This is about my son.
We are glad to see that Mashonda and Alicia Keys were able to talk in person and get some things straight. At this point, it is what it is.
Be the first to receive breaking news alerts and more stories like this by subscribing to our mailing list.