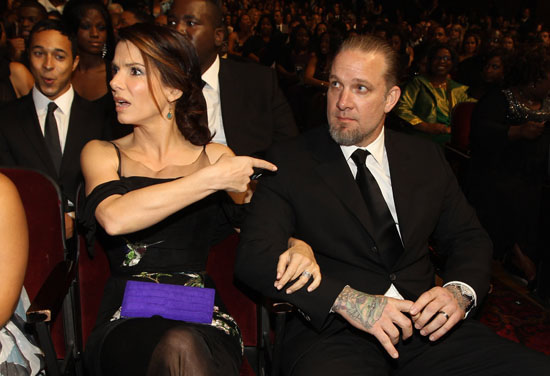 Sandra Bullock and Jesse James were officially divorced as of this past Monday (Jun 25) and now several media outlets are releasing details of the divorce agreement revealing a few changes in the final documents.
According to the documents, Sandra will remain co-parent to James' three children: Sunny (6), Jesse Jr. (12) and Chandler (15) and she was listed as a single parent to baby Louis while James retains full legal custody of his three kids. Even though both Sandra and Jesse began the adoption process for Louis together, the new divorce filings cite that "there is no child of the marriage" so they listed her as the 3 and a half year-old child's sole guardian.
As for all property and assets, the ex couple have agreed to sale and split any property that they purchased together.
In most cases, Sandra Bullock would be asked to pay spousal support, but Jesse James has declined to take any support/alimony from her. Overall, this divorce was a pretty simple breakup and peaceful.
Be the first to receive breaking news alerts and more stories like this by subscribing to our mailing list.