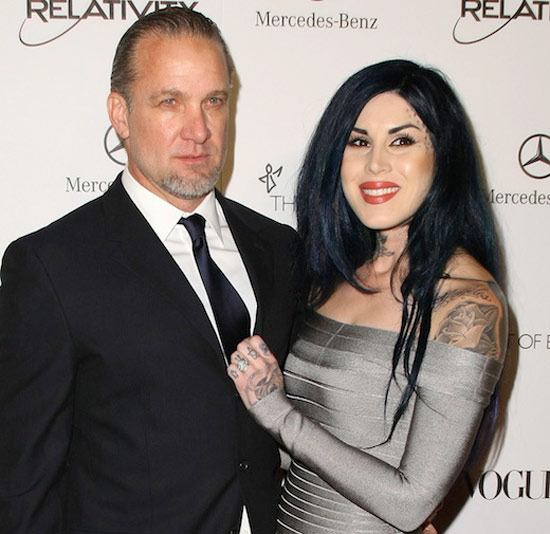 She was probably the only one to not see this coming…
Kat Von D wants the world to know Jesse James cheated on her with 19 other women!
In a lengthy post to her Facebook Page titled "Thank you, Jesse James" … the tattoo artist/TV personality reflected on believing that he could change for the better, being blamed for breaking up Jesse and Sandra Bullock's marriage, and coming to peace with herself after their relationship.
Today I encountered the 19th girl to add to the list of people Jesse cheated on me with during this last year. I kept going back and forth in my mind as to what the best way would be for me to release and let go of any residual feelings remaining from that toxic relationship. All of this may sound petty or immature to some, but I assure you this is coming from a place of pure honesty and love.
Von D went to on admit that she deserves a big fat "I told you so" from everyone. … but she has already paid the consequences for her mistakes.
Sure, its easy to tell someone, "I told you so" especially if you're criticizing someone from the outside, but that attitude comes from a place called Ego, and not Love. I know I deserve a big fat  "I told you so," from everyone, and wish I didn't have to say, "You all were more right than you'll ever know" but you were.

Not to worry, I've gladly paid the consequences for every mistake I've ever made, but learned so much from each of them.
She says the biggest lesson she learned from being with Jesse is that time is essential and what we do with every moment is real.
Time is something you can never get back, and what we do with this very present moment is the most real thing we have. So if that's the lesson Jesse forced me to face and learn by all of this, than all I can say is Thank You. It would be nice to move on now, and kindly thank you all in advance for your support, love, and positivity.
We're glad Kat Von D can finally see clearly now that the rain is gone.
They say "how you got him is how you'll lose him," and it sounds like Kat Von D just learned that age-old lesson the hard way!
Be the first to receive breaking news alerts and more stories like this by subscribing to our mailing list.