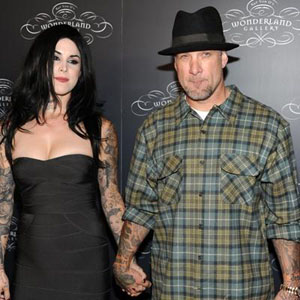 On-and-off couple Jesse James and Kat Von D just got back together last month after previously splitting … and now they have broken up once again.
"I am not in a relationship," Kat confirmed on her Facebook page Saturday. "And I apologize for all the 'back and forth' if it's caused any confusion."
Kat and Jesse had been planning a summer wedding, but called off their engagement in July. A month later, Kat Von D's reality show "L.A. Ink" was canceled, but she had some good news at the time. She and Jesse James were back together, and their engagement was back on.
Now, not too long after announcing that they were back together … Kat is telling the world that it's over, and this time, it may be for good.
"It was clear to me that we were just on two different paths in life," Von D tells PEOPLE. "My friend put it best when he said I could never be more deserving of total, noble love. And as a woman, I think it's important to know your value and never lose sight of that."
Read her full Facebook post below:
Hey everyone!

I'm sure this will be the most "uneventful" blog I have ever written – but its purpose is simply to answer a lot of the reoccurring questions I've been getting asked lately – and I'm hoping this will answer them for you 🙂

I think maybe the final episode of LA Ink left things a bit confusing to some. So in a nutshell here goes:

1. I am not in any way moving to Texas. I am not opening up another tattoo shop. And I am not leaving my shop here in Los Angeles, High Voltage Tattoo.

2. I am not in a relationship. (And I apologize for all the "back and forth" if it's caused any confusion)

3. I am in no way retiring – (what does that even mean anyway???)

4. My tattoo shop is not closing, and is open for business like always! (Same goes for my art gallery, Wonderland – next door to High Voltage Tattoo.)

5. As hard as it is to sometimes let go of the things you are so accustomed to doing, I am happy to have done LA Ink, but am even more excited about new upcoming ventures – and cant wait to eventually share more about this with you all!

That's all. I told ya it would be uneventful… 😉

Thank you to everyone who has been so kind, supportive, and positive!
You'll never know how much love I have for you all in this heart of mine!

Yours,
Kat Von D
As serious as Kat is about not being with Jesse James right now, we wouldn't be surprised at all if they got back together before the end of the year.
Be the first to receive breaking news alerts and more stories like this by subscribing to our mailing list.