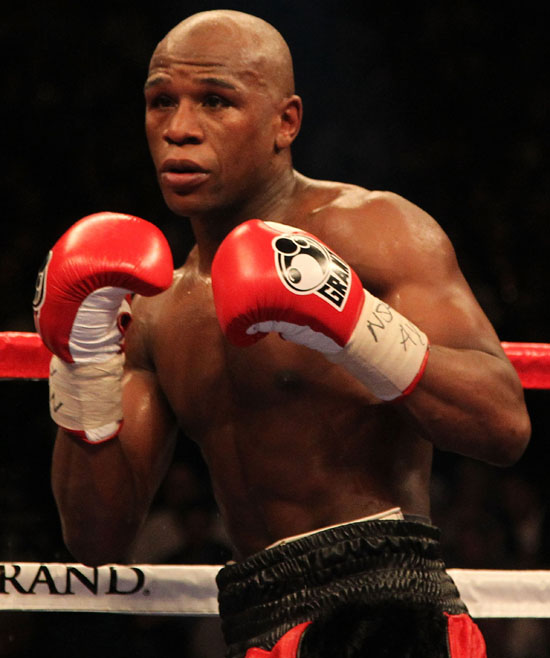 In addition to boxing, championship fighter Floyd Mayweather Jr. also runs his own record label Philthy Rich Records. And the word on the sidewalk is that Mr. Mayweather is in some legal trouble and was sued for stealing a rapper from another label and signing him to his while the artist was still under contract with their former label. Floyd lost the battle in court today and was ordered to fork over almost $6,000 to the company, who was seeking $750,000 in damages and $155,000 for studio time, living and travel expenses. Here's the scoop:
Boxing champion-turned-record executive Floyd Mayweather Jr. has been ordered to pay almost $6,000 to a New York management company after he was accused of poaching a rap artist for his label. Bosses at Long Island, New York-based Just For You Entertainment sued Mayweather, Jr. for "surreptitiously signing" Freck Billionaire – real name Jeffrey Whitters – to his Philthy Rich Records in 2008.

Just For You executives claimed the rapper had signed an exclusive contract with them in 2005 and sought a reported $750,000 in damages, claiming costs including $155,000 for studio time, living and travel expenses. The case recently went to court and Manhattan federal Judge Kevin Castel ruled in Just For You's favour, but he only approved a handful of the expenses.

Castel told the courtroom: "The problem with this case is a lack of probative evidence. It appears no records were kept for many items where damages were claimed."

Mayweather never answered the suit against him.
Cold game, but this is the life of the music business. We're mad they sued him for almost $1 million and only got $6,000 though!! (LMAO) What a waste of a lawsuit, SMH…
Be the first to receive breaking news alerts and more stories like this by subscribing to our mailing list.