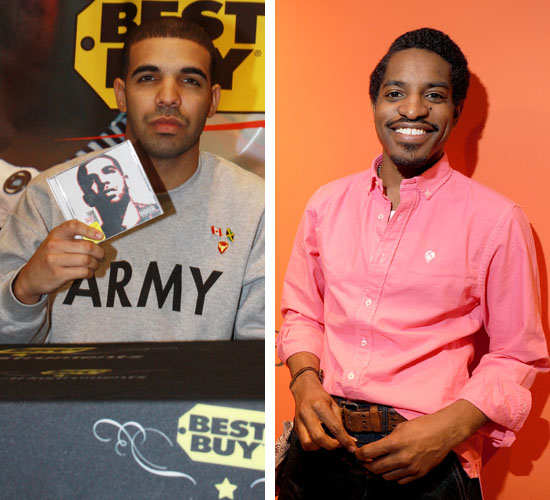 Andre 3000 and Drake on the same track? Now that would be crazy, but it obviously won't be happening anytime soon.
Drake has publicly been trying to court Andre 3000 for a guest feature on his newly released album  Thank Me Later for months now and he obviously wasn't very successful. Apparently, Andre 3000 didn't think that the Young Money emcee was proven enough to get on a track with him. Here's what Drake told Vibe:
"I really tried to do a song with Andre 3000, but I think it was meant for my second album," Drake said in an interview. "Dre is one of those people that needs you to do a little more. He's one of those people that believe in his craft so much that he needs you to do more than just be over hyped or just famous. In his mind, I have to prove myself and the truth is, I do. That's just being real. I have a lot of work to do, so I actually respect him for that. I think on the second album I'll probably only have two features. I have a few people in mind and Dre probably will be one of them."
Clearly, Andre 3000 feels that he's in another space right now. But Drake shouldn't be bothered too much. Andre 3000 hasn't done a guest feature for anyone lately really. And our sources close to 3 stacks say that right now he's 100% focused on his own upcoming album, which has no release date as of yet.
But maybe next time Drizzy!
Be the first to receive breaking news alerts and more stories like this by subscribing to our mailing list.