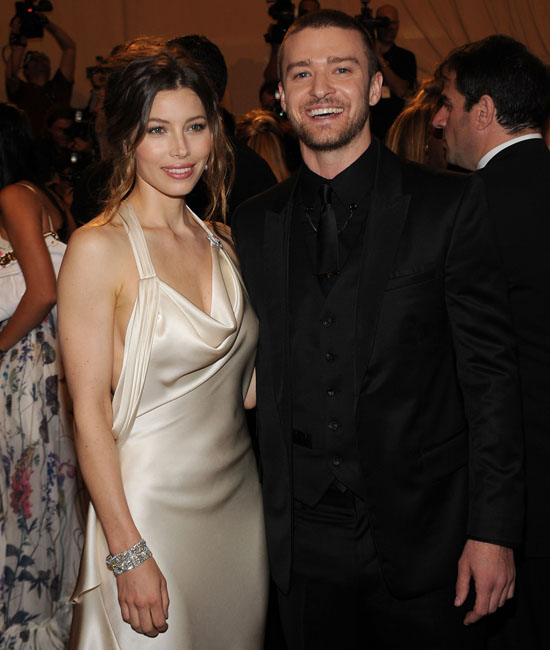 It's mating season for Jessica Biel and her boyfriend Justin Timberlake! Sources say the 28-year-old actress is more than ready and willing to get married and start a family right away with JT.
"Jessica is desperate to settle down and have kids," said one insider. "And ideally she'd like it to be with Justin. She's been on at him for weeks about starting a family. Ideally she'd like to get married, too, but she's told Justin she'll happily settle for just a baby."
Late last year, Justin and Jessica's relationship went south and the pair almost called it quits. But after they took some time apart from each other, they decided they couldn't do without one another and decided give love another chance.
"Things began taking a turn for the worse for Jess and Justin around the MTV Video Music Awards in September," said one insider. "Justin was staying in New York by himself, working a lot and going out with his friends. He and Jess took some time apart through the fall while she was working, but stayed in touch via phone.

"They visited each other a little bit and Jess missed Justin, but she was willing to give him space. It really worked out because by the time the holidays were coming, Justin was back and focused on Jess! Justin loves Jessica and he wants to be with her. She makes him happy, they have so much in common and she is a good fit for him. She's low-key and makes the effort to spend quality time with her family and friends.

"Justin was being preemptive when he considered breaking up — he realizes what it would be like to lose Jessica and he cares about her so much. He wants her in his life and they are in a great new place in their relationship. Justin's mom has often commented that she would love to see him and Jess marry and have her grandchildren. Lynn really does like Jess. Their mended relationship is good news."
Be the first to receive breaking news alerts and more stories like this by subscribing to our mailing list.