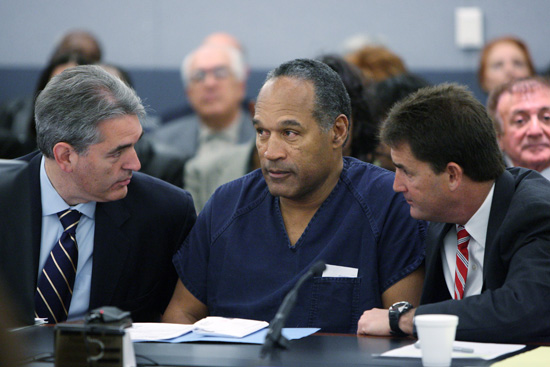 O.J. Simpson is back in court again!
The former NFL player and his lawyers are appealing a court's decision in 2008 to convict Simpson of armed robbery, kidnapping, and 10 other related offenses. The charges stemmed from an incident that occurred during 2007 at a Las Vegas Hotel where O.J. allegedly ran into a hotel room with five other guys, two with guns, and stole a collection of sports memorabilia related to his and other athlete's careers.
Simpsons' attorney Yale Galanter is pleading that the judge was prejudiced against his defense team and purposely excluded two black jurors from the case:
"I don't think this trial was handled in a fair and impartial manner. I think she came down on me and the defense lawyers a lot more than she did on the state.

"The reason given for striking these two jurors was that they could empathize or sympathize with the defense. Their speculation on what these African-American jurors might have done given the opportunity had no place in this court room. Smacked of prejudice.

"It was improper, it was not right. The state says the two jurors were stricken for remarkably similar reasons. I submit to the court that those remarkably similar reasons were because they were both African-American."
The court will make a ruling on the appeal at a later date to be announced.
Be the first to receive breaking news alerts and more stories like this by subscribing to our mailing list.