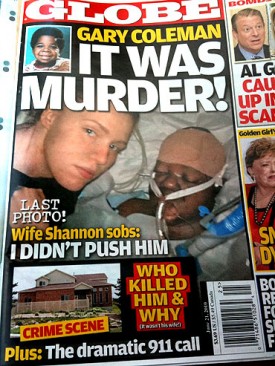 The Globe has released pictures of the late Gary Coleman in his final moments on the cover of the latest edition of their tabloid newspaper.
The photos were taken by his ex-wife Shannon Price at the hospital where Coleman died at, and the greedy bitch later sold them to the Globe for a measly $10,000 according to various sources.
Wow, seriously? $10,000 measly little bucks?!
Price allegedly sold the pics to help pay for lawyer expenses, however we all know this is a bunch of bull, like her story of Gary mysteriously falling down a flight of stairs and hitting his head. Everyday something new comes forward in regards to Gary Coleman's death. We just hope soon, the truth will be set free! Everyone knows she killed him.
That demon-lady needs to be persecuted! SMH…
Be the first to receive breaking news alerts and more stories like this by subscribing to our mailing list.