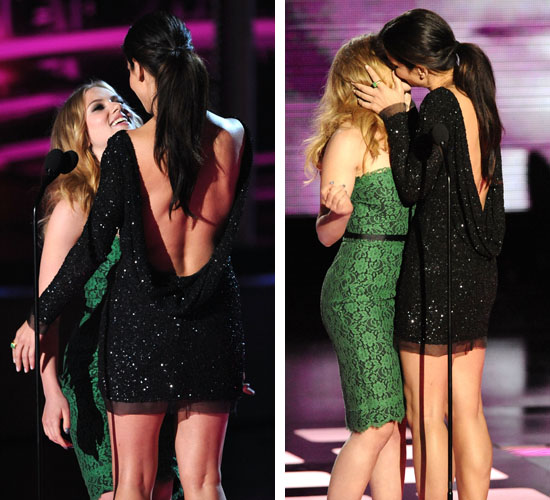 What is going on with all of this guy on guy, girl on girl kissing action going on these days??
First we reported on teen actress/singer Miley Cyrus pretending to kiss one of her female dancers on stage during her performance on UK television show "Britain's Got Talent." Then it was the not so delightful kiss between actors Dustin Hoffman and Jason Bateman during the Lakers/Celtics game Thursday (Jun 3). And this time around it involves a name we've been hearing a lot about lately… actress Sandra Bullock! After receiving the "Generation Award" at the 2010 MTV Movie Awards last night (Sun. Jun 6), Sandra puckered it up with actress Scarlett Johansson. The kiss came as a surprise to everyone!
Bullock also spoke on the recent controversy going on in her life during the show.
"Can we please go back to normal? Because therapy is really expensive. Go back to making fun of me, I don't care, its time to get back to normal."
In case you missed it, catch the video footage below:
Be the first to receive breaking news alerts and more stories like this by subscribing to our mailing list.