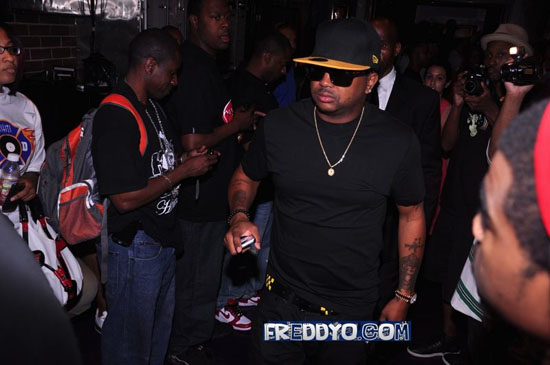 R&B producer/singer/songwriter The Dream hosted an exclusive private listening session in Atlanta Monday night (May 24) at Outkast's Stankonia Studios. The Executive VP of Island Records (and new father) wanted to give the top DJ's and industry heads in the area a glimpse into his upcoming 3rd studio album Love King, due to drop June 29th.
Lots of reports are going around about security being extra tight (and hella unfriendly) to folks who were invited to the session. And word is The Dream didn't seem to mind (or care). Here's what ATLien from Straight from the A had to say about her experience at the event:
Last night, I attended a private listening session for Terius "The-Dream" Nash upcoming "Love King" project at Outkast's Stankonia Studios. The evening started out status quo, but eventually turned bizarre as hell after the singer/songwriter/Executive VP of Island Records arrived to the session with 5 burley security guards in tow. Now, don't get me wrong, I'm all for personal protection WHEN it's necessary, but at a label hosted event held at a private studio full of Atlanta area industry peeps, it seemed a bit much!

Mr. Nash posted up in the corner as his 5 (yes FIVE) bodyguards assumed the protective position in front of him. As they guarded an invisible line, interaction was impossible and The Dream didn't seem to mind, as he bobbed his head (alone) in the corner. During most listening sessions, the artist normally announces each song and explains to the listeners it's concept. Not this time. As each song played, there was no discussion about it's meaning or it's inspiration, and because of the "invisible line" guarded by The-Dream's FIVE bodyguards, attendees were immediately turned off by it all and unfortunately the music took a backseat to security.

I, personally, had a great time rubbing elbows with my peers, but was disappointed by The-Dream's lack of interest in anyone or anything. In a room full of industry execs, DJ's, media, bloggers… who were all personally invited to attend, the lack of interaction was a complete turn off.
How are you gonna personally invite people to a "private" and "exclusive" event and have bodyguards posted up all over blocking any and all interaction with you? SMH… Check out a few pics of Mr. Nash at the "Love King" album listening session in Atlanta below…
Be the first to receive breaking news alerts and more stories like this by subscribing to our mailing list.