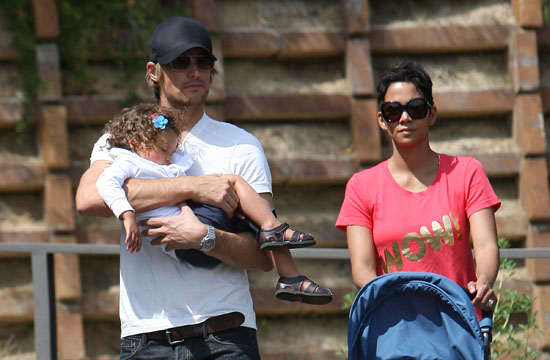 It's been a little while now since Halle Berry and Gabriel Aubry have been together, and they still seem to have conflict concerning custody arrangements for their 2-year-old daughter. Word on the sidewalk is that Ms. Berry has been making it pretty difficult for Gabriel to see Nahla. And we hear she's going to make it even more difficult for Gabe as she plans to take baby Nahla with her to South Africa for 3 months to film a movie.
"It's been pretty difficult for Gabriel to see Nahla the last few weeks," a source close to the situation tells RadarOnline.com. "He's really getting sick of it and it's getting to the point where he is seriously considering his options regarding pursuing permanent custody. He refuses to give up rights to his daughter, he loves her more than anything and is determined to be a regular, full time fixture in her life.

"The latest issue is that Halle is due to move to South Africa during July, August and September to work on a movie and she wants to take Nahla with her full time. That would mean Gabriel not seeing his daughter for three whole months and there's no way he's going to allow that," the source told RadarOnline.com
As you could probably imagine, Gabriel was not pleased with the thought of not being able to see his little girl for 3 months, so he requested that Nahla stay in Los Angeles with him until Halle returns from South Africa. But Halle wasn't having that at all and their discussion got a little nasty:
"Gabriel requested that he be allowed to keep Nahla with him in Los Angeles but Halle wouldn't let that happen, so the two reached a total stalemate and it started getting nasty, with both of them looking into entering a legal battle," the source said.
Ultimately, the two parents were able to come to an agreement and Halle will actually pay for Gabriel to come with them to South Africa where he will be a full-time nanny of sorts and care for baby Nahla while Ms. Berry is working. And the two even plan on living under the same roof during that time for the sake of the little girl.
"In the end they reached an agreement. Basically Halle is going to pay Gabriel to be a kind of full time nanny and to come to South Africa for the three months she's there, and to be Nahla's full-time caregiver. Halle has a huge house that's being rented for her and she and Gabriel are going to try to live under the same roof and get along for the sake of Nahla. Heaven only knows how that's going to work out, as they haven't been on the best of terms lately, but they do both love their daughter so maybe they can make it work.

"Halle has got a contingency plan though. If it doesn't work out with them both living in the same property, she has agreed to rent a house for Gabriel near where she will be staying, and then he gets to look after Nahla all day while she's working, and return to his place at night. It's certainly not a conventional solution, but who knows, maybe it will work for them. One thing is for certain though – this definitely is not any kind of attempt at reconciliation. It is definitely 100% over between these two, and if it wasn't for the fact of sharing a child together they would quite happily never see each other again."

SOURCE

Overall, we are glad that they were able to work that custody thing out… for now at least.
Be the first to receive breaking news alerts and more stories like this by subscribing to our mailing list.