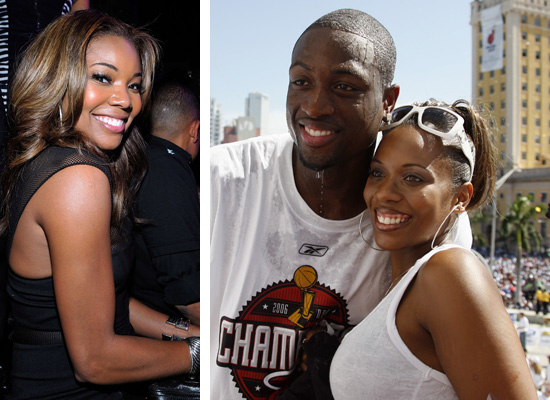 Miami heat basketball player Dwyane Wade's estranged wife Siohvaughn Wade wants actress Gabrielle Union to pay (literally) for allegedly breaking up her marriage. In a lawsuit filed on behalf of her two sons (8 and 2 years old) Mrs. Wade is seeking $50,000 in damages and claims that Gabby and D Wade, who are currently dating, engaged in "sexual foreplay" and "extreme and outrageous conduct" in front of their young children.
In another lawsuit, Siohvaughn says a Chicago Attorney named Lester Barclay of the Dixon & Smith firm failed to act in the best interest of her children during she and Dwyane's divorce. She claims that he ignored reports of abuse or neglect from Dwyane.
But Wade tells TMZ: "I am shocked that Siohvaughn Wade has brought this baseless and meritless lawsuit in the name of our children against Gabrielle Union. I am deeply saddened and disappointed that Siohvaughn has used our sons once again as pawns and is now lashing out at Gabrielle, who is an innocent party. It is clear that this is a desperate attempt to retaliate against me for seeking sole custody of our children and requesting that the court have her undergo a psychiatric examination. My primary concern is my children and actions such as this only inflame the situation and are harmful to their well being."

TMZ also spoke with a rep for Gabrielle Union who also rejects Siohvaughn's claims — and apologizes to the court system for having to deal "with erroneous claims when there are real victims who should be receiving the legal attention they need."
Well damn… Either Siohvaughn is crazy as hell or Gabby and Dwyane are some freaky mofos! Foreplay in front of the kids? C'mon son!
Be the first to receive breaking news alerts and more stories like this by subscribing to our mailing list.