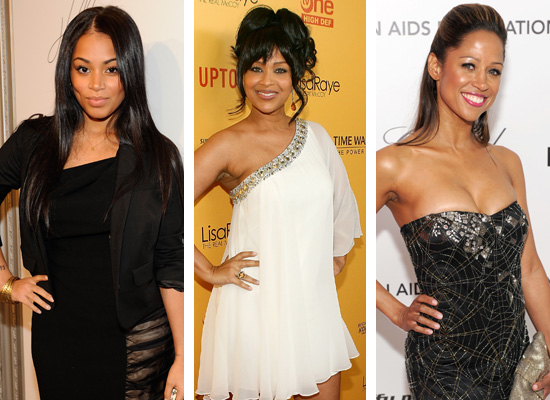 Now that they are running things in the world of reality television, VH1 is trying its hand at an original series! Actresses LisaRaye McCoy and Stacey Dash both recently revealed to Vibe Magazine that they will be starring alongside fellow actress Lauren London in VH1's first ever scripted series, "Single Ladies."
The show was written by former "Living Single" star Queen Latifah and will begin four-day rehearsals and filming in Atlanta this week. "Single Ladies" is said to appeal to fans of shows like "Girlfriends" and "Sex In The City." No word just yet on when the new show will hit television but continue reading for more details…
"When Girlfriends got off the TV we didn't have anything else to relate to," says McCoy."This would be something else as a series so we can do more and be a little bit more risqué." Dash—who was first vying for a reality show with VH1—plays a celebrity stylist who is experiencing autonomy for the first time. "My character is very similar to my own life because I've never been single. Literally, since I've been 17 years old. She's never been married, the character than I'm playing, whereas I've been married three times, so that's the difference," Dash says. "It's a really good script."

McCoy's character, a video vixen, is a bit more experienced than Dash's. "She doesn't have one of anything nor does she believe in having one man. She believes in dating and being able to explore her possibilities. She's much like Samantha of Sex in the City," explains the Player's Club star. "Very straight up and honest. She's the one that has that spunk, I'd like to say that she's the slut of the three." McCoy, currently starring in her own reality show, TV One's The Real McCoy, also mentioned to VIBE that London plays a younger, semi-shy character married to an NBA player. Although London will be a recurring character in the show, her rep confirms that the role is small.
Will you be tuning in?
Be the first to receive breaking news alerts and more stories like this by subscribing to our mailing list.