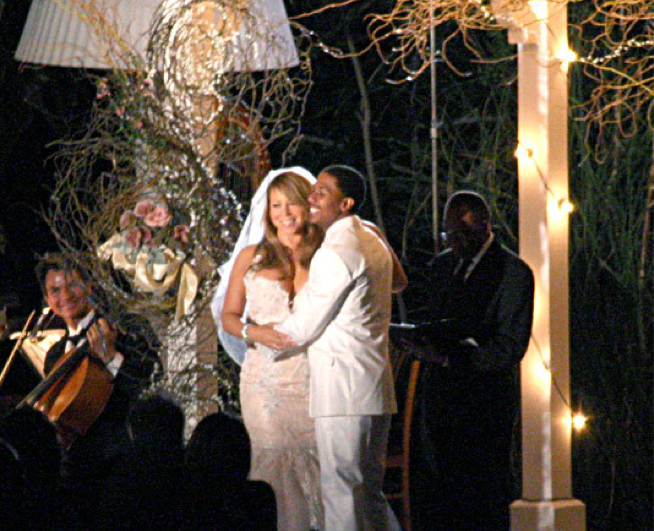 Mariah Carey and Nick Cannon are still married and going strong! Can you believe it? Many predicted this marriage to last no longer than 6 months, but they are still married and they decided to celebrate their 2-year anniversary with yet another wedding ceremony to renew their vows at their Beverly Hills mansion Friday evening (Apr 30) in front of their family and close friends. This is the third wedding ceremony that they have had since getting married, but why so many weddings?
Well, the word on the sidewalk is that Mimi enjoys doing these weddings because she and Nick make a ton of money selling the first wedding photos to magazines. "Mariah is a brilliant business woman. Every time she gets married, she makes a fortune selling the pictures from her wedding," a friend of the couple told Pop Eater. "It's genius. It's not free publicity she's getting. Mariah is so smart she actually gets paid for promoting herself."
We definitely agree that this is somewhat genius. If any of us regular people had the money to get married to the same person every few months and make a bunch of money selling the wedding photos, we can almost guarantee there would be alot of people doing this. Overall, we are happy for Nick and Mariah! They are still married despite all of the Hollywood relationships falling apart right now.
Photo via TMZ
Be the first to receive breaking news alerts and more stories like this by subscribing to our mailing list.