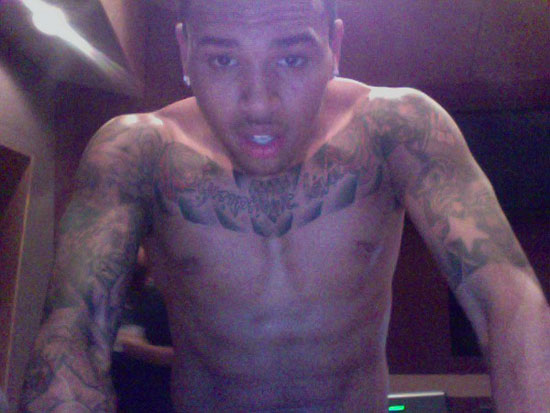 The word on the sidewalk is that your boy Chris Brown got extra heated earlier this morning before an interview with a radio station in Virginia. Chris was in town to promote an upcoming charity concert in his home state and before he got a chance to go live with WRVQ Q94, the 20-year-old entertainer allegedly went off on the on-air DJ for not playing his music.
All of this was recorded and played on the air later today and Chris spoke out on his Twitter claiming that the audio was edited to make him look like a diva, but Kash (the host of the show on Q94) says the only part of the audio that was edited was the dead air to shorten it for radio play.
Contact Music has all the details below:
The singer has been attempting to rebuild his career after he was convicted of assaulting his ex-girlfriend Rihanna last year (09), but he marred a promotional appearance on Q94 WRVQ by swearing at host Kash and accusing the DJ of failing to play his records. Kash played the pre-recorded interview back to listeners, and explained his surprise when Brown began shouting at him for no reason. He said, "Chris Brown was going to come in today to do an interview to promote his concert… But before we could even get into the interview, homeboy starts yelling at me, wondering why we don't play his records. And I said, Mr Chris Brown… you just don't have any hits and that's just the truth. You don't have any hits right now.' And… from there the whole interview just goes south."

Brown is heard telling the DJ, "All I'm saying is that you don't play my s**t. What number is it (my song) at? It don't matter. Why am I even doing this interview? I ain't doing this s**t." Kash later explained he received a number of phone calls from officials at Brown's Jive record label apologising for the star's behaviour. He adds, "Shout out to every one at Jive for all of the apology phone calls I received for their artist acting like a diva. And I'm pretty sure I won the award for quickest interview ever."

The DJ has also spoken out to dismiss claims he edited the audio to make the incident sound worse than it actually was. In a post on his Twitter.com page, Kash writes, "For the record, my interview with Chris Brown was posted with the entire amount of audio I got minus dead air, I tightened it up for radio play. Apparently blogs are thinking I edited it to make homeboy look like a d**che, but no editing can create that level of d**che-bagery."
Be the first to receive breaking news alerts and more stories like this by subscribing to our mailing list.