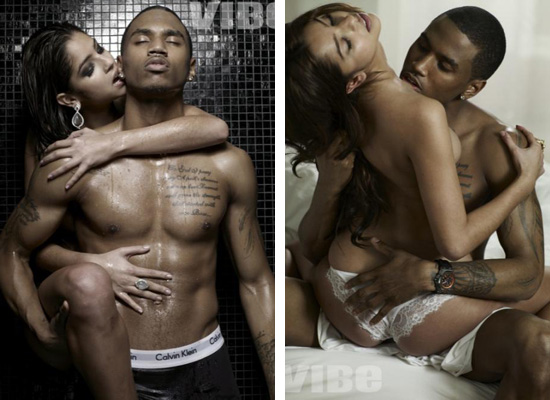 Trey Songz will reportedly host a youth empowerment initiative called "Songz 4 Peace" at the University of Memphis on Sunday, April 18th. S4P's mission is to educate and empower urban youth on the importance of choices.
In addition, MTV is reporting that the 25-year-old R&B singer, who just finished a major tour alongside Jay-Z and Young Jeezy, is gearing up to release his next album this Fall!
"September 14th, new album. He's not gonna stop," Liles said last week during a sit-down with MTV News to promote Def Jam Rap Star. "He's gonna keep his foot on people's necks, and he's going to make sure they understand that we have to redefine R&B. We have to go work hard every single day to be the best." Liles, a record executive with Def Jam and Warner Music Group, decided to come out of the "big suite" last year to concentrate on other business ventures. He was approached by Songz to help take the singer to the next level, and their mission was accomplished. Songz's star is its brightest ever and the hits keep coming.
Peep outtakes from Trey's photoshoot for the April/May 2010 issue of VIBE Magazine, on stands next Tuesday (Apr 13). And read on to see what else Trey has going on, including his upcoming reality show with Jeezy and a solo tour coming up this summer.
"Every day, this kid inspires me," Liles said. "You know, that's one of the reasons why I got back into it, because I wasn't going to get back into it. I said, 'I did it. I cannot [go back].' I felt like I was starting to have the Michael Jordan syndrome, you know what I mean? What more? I scored 40 points, and you guys still feel I ain't doing it. It's like I scored 90 points, I said I don't want to be in that business, I just want to be great. But he said, 'Kev, we need you. You know we need you.' So I'm in it full blown with him. September 14th, he'll be back. He's doing a theater tour coming up in August. He's doing the BET Awards. The "MTV Unplugged," which is amazing, sold out Roseland by itself, 3,000 people. It's just a blessing to work with young talent."
And that's not all. Songz will reportedly star alongside his ex tour-mate Young Jeezy in an upcoming reality show.
"We've got the Blueprint 3 [Tour experience] from the eyes of Jeezy and Trey Songz coming out," Liles revealed. "The first show airs on BET on June 27, the night of the BET Awards. The show comes first, and then right after that, the BET Awards."
Be the first to receive breaking news alerts and more stories like this by subscribing to our mailing list.