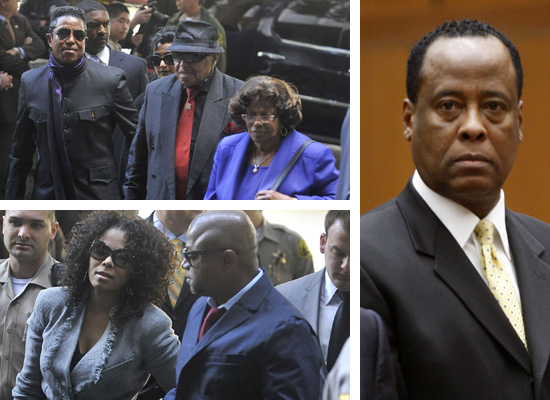 Dr. Conrad Murray's court hearing was rescheduled moments before it was set to take place in downtown L.A yesterday. The hearing was originally scheduled to be held Monday (Apr 5) but the judge postponed the hearing due to his affiliation with Attorney General Jerry Brown, who wants Murray to have his medical license revoked.
Judge Michael Pastor, in the interest of full disclosure, told lawyers for both sides he was appointed to the bench by Attorney General Jerry Brown back in 1983 when Brown was governor of California. Brown is the one who is gunning for Murray's license. And, in the "small world" category, Judge Pastor revealed he wrote a letter of recommendation for prosecutor David Walgren, who is looking to become a judge.

TMZ

Dr. Murray is under fire for allegedly killing Michael Jackson on June 25th 2009 when he administered lethal amounts of Propofol (an operating room anesthetic) to the King of Pop. He is being brought to trial on charges including involuntary manslaughter, and he is pleading not guilty. Prominent members of the Jackson family, who believe that he is indeed responsible for MJ's death, showed up to the court-house together to attend the hearing, which was postponed to June 15th.
Check out pics of Dr. Murray, Janet Jackson, Randy Jackson, Joe Jackson, Jermaine Jackson and Katherine Jackson, along with a few Michael Jackson fans/supporters, outside the Los Angeles Superior Courthouse below…
Be the first to receive breaking news alerts and more stories like this by subscribing to our mailing list.