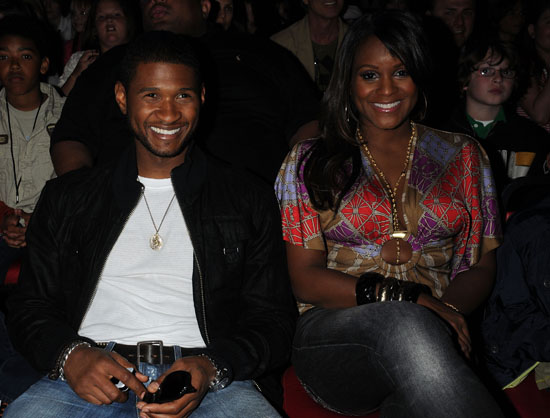 Usher states that his buzz single "Papers" from his most recent album Raymond vs. Raymond was life imitating art. Usher spoke with MTV News last week to discuss the new LP and its vivid material.
"I think people would have immediately alluded to the fact I was talking about my wife when I made that record — and now my ex-wife," he said. "When the song was recorded, I wasn't divorced. It was some reality in the contrast of trying to make it all work, having to balance a career and having a normal life. Coming in at 6 in the morning and arguing was a reality when you have those type of relationships. I felt that in a way, the story did touch on certain things at the time. I didn't know how realistic it would become. I didn't know I would become divorced. I did know it spoke on the contrast between trying to balance this world of being married and having this responsibility that's like a marriage at the same time. The song spoke to that place. Unfortunately, it did become a reality."
Usher's ex-wife Tameka Foster, told People that "Papers" was only for entertainment purposes and it shouldn't be taken literally. But of course she would say that since most people (including us) still think the song is about her. The shoe fits too snug for it not to be about her…
The chorus in the song Papers chants:
For you, I gave my heart and turned my back against the world / 'Cause you were my girl, girl, girl / I done damn near lost my mama, I done been through so much drama, I done turned into the man I never thought I'd be / I'm ready to sign them papers…

The track was written by Sean Garrett and produced by Zaytoven.
"Let's say I wrote a record for Usher three or four months ago where I really didn't have any idea of what he was going through personally. I work really hard at creating records I feel that's gonna fit like a glove to an artist," Garrett explained back in June. "Me and Usher have a close relationship; I tend to sort of assist certain artists in giving them a direction, where I think they need to go in their next move. I felt that was the direction we needed to go. I felt that was the question everyone wanted to know: Was [his relationship] good or was it bad? Was it right? Are you happy or you're not?
Raymond vs. Raymond is in stores now!
Be the first to receive breaking news alerts and more stories like this by subscribing to our mailing list.