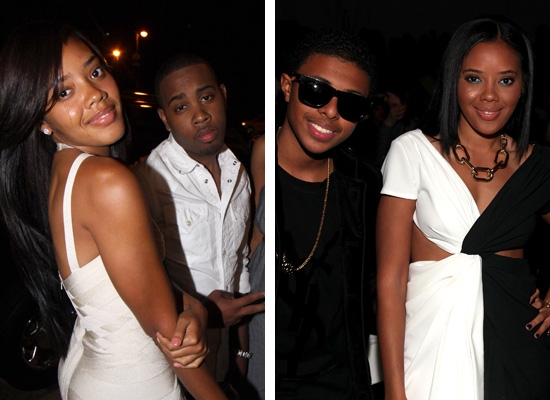 When news broke the other day that Diggy Simmons had locked down a deal with Atlantic Records, people took to Twitter to diss the hell out of Diggy's older brother JoJo Simmons who has been rapping for a while, but has been nowhere near close to locking down a deal with any major labels like his little bro And when JoJo and Diggy's older sister Angela Simmons cauthw ind of this, she decided to throw in her two cents.
And since all the chatter, JoJo and Diggy's sister, Angela Simmons decided to address all the joking and hoopla as well as her current relationship status via UStream:
"People need to stop trying to create a competition between my siblings. Trust me if one of us make it we are all happy. Haters out there have nothing better to do with their life than talk about someone else's, instead criticizing our life, why don't you try to get your own."
Angela even went on to address all the chatter about if she is dating:
"I just want to take this time to speak to y'all for real about the rumors and stuff people are saying about me in the industry. I am single and I think that it is terrible that as a female I can't hang out with my male friends without it being said that I am dating them. I have friends just like everyone else and I am not dating every guy that you see me hanging out with."
We think that she did the right thing by addressing all of the chatter surrounding her brothers, but we are not feeling what she had to say about her "single" status. It's hard to believe that she doesn't has something going on with her ex boo Bow Wow, especially after she was spotted not too long ago chilling with him at one of his celebrity basketball games. Come on Angela, stop playing games with the media, you know good and well that you and Bow are still dating!
Be the first to receive breaking news alerts and more stories like this by subscribing to our mailing list.