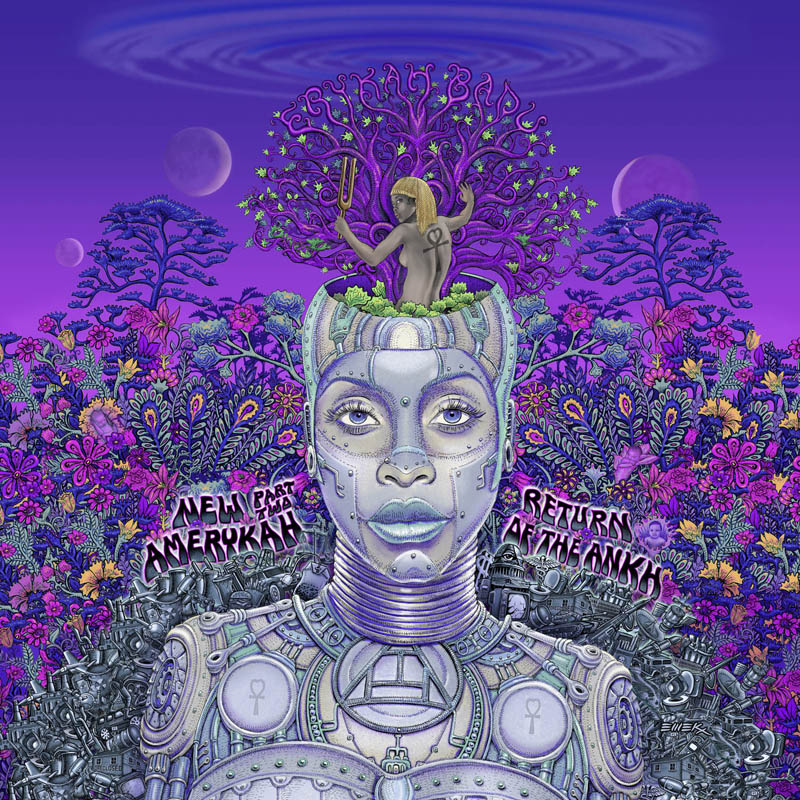 [audio:http://gossiponthis.com/wp-content/uploads/2010/03/strawberry-incense.mp3|titles=Erykah Badu – "Strawberry Incense"]
R&B/neo-soul singer Erykah Badu released the cover for her new album New Amerykah Part Two: Return of the Ankh via her official website earlier this week. The singer plans to release the album in a couple weeks (Tues. Mar 30). She also leaked a song from the album called "Strawberry Incense," which was produced by Madlib and features Kirsten Agresta on the harp.
Read on for more info on the album's cover…
The cover art for NEW AMERYKAH PART TWO is a collaboration between ERYKAH BADU and famed artist and poster designer EMEK, who also designed the inspired packaging for 2008's New Amerykah Part One: 4th World War. The new album cover depicts an underwater image of BADU wearing a suit of armor that symbolizes the tough exterior she developed to protect herself from the harsh realities of life. The armor is her old shell and now she's liberating herself from it by climbing out of her own head so that she can be reborn.
Her tuning fork is summoning the vibrations of the universe and the purple-colored tree of life and purple sky represent the 7th Chakra—the Crown Chakra right above her third eye shield, which represents peace, wisdom, and spirituality. The numerical theme of three is symbolized by three moons, three hidden babies, three trees, and three ankhs. Closer inspection reveals that BADU's shoulders are surrounded by many of the same objects that filled her abstract afro on the cover of New Amerykah Part One, including handcuffs, a foreclosed home, fast food, cigarettes, broken chains, and a military tank. Here, those items represent refuse and rubble from which new life grows into a vibrant garden of colorful flowers blossoming all around her.

"Working with ERYKAH always brings out the best in me," says EMEK. "I have worked with hundreds of bands and I have to say that she is pretty unique. The amount of time and energy she spends on all aspects of her life. She is very creative and hands-on, but she also respects and encourages the creativity in others."

In keeping with the concept of the cover art, NEW AMERYKAH PART TWO: RETURN OF THE ANKH taps into BADU's emotional side by thematically focusing on romance and relationships. "With Part One, I was standing at an apex, looking at what was going on around me politically, socially, and economically," BADU explains. "With PART TWO, I'm hovering over me, looking at what's going on inside of me."
Be the first to receive breaking news alerts and more stories like this by subscribing to our mailing list.