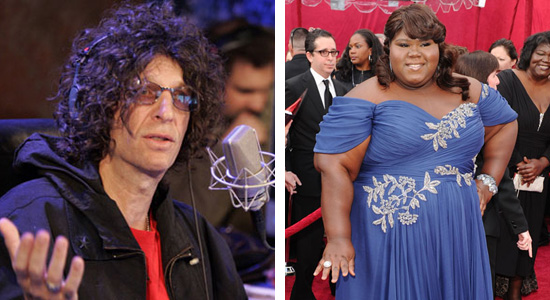 Radio shock jock Howard Stern is running his mouth again… Going against the grain (as usual), the Sirius XM radio show host had a lot to say about young actress Gabourey Sidibe (star of the Oscar award-winning movie "Precious"), calling her "enormous" and saying she's too fat to have a career in Hollywood.
"There's the most enormous, fat black chick I've ever seen. She is enormous. Everyone's pretending she's a part of show business and she's never going to be in another movie," Stern said. "She should have gotten the Best Actress award because she's never going to have another shot. What movie is she gonna be in?"

"'Blind Side 2,'" Stern suggested. "She could be the football player, take out the whole front line." Stern, on the air with his co-host Robin Quivers, also played the speech given by Oprah Winfrey to Sidibe at the Oscars on the program. The hosts said Oprah was lying to her by saying she's going to have a career in Hollywood. "Come on, be honest with the girl," Stern said. "Look in that room. Who else do you look like? Those are the people that work all the time," Quivers agreed.

ALL HEADLINE NEWS
To hear the words actually coming out of this f*ck boy's mouth, continue reading…
Too bad Howard Stern was totally off the mark with this one. Sidibe, does, in fact, have a few projects lined up already. She has a spot in the new Showtime series "The C Word" and will make her next film appearance in "Yelling to the Sky" when she stars alongside actress Zoe Kravitz.
Be the first to receive breaking news alerts and more stories like this by subscribing to our mailing list.