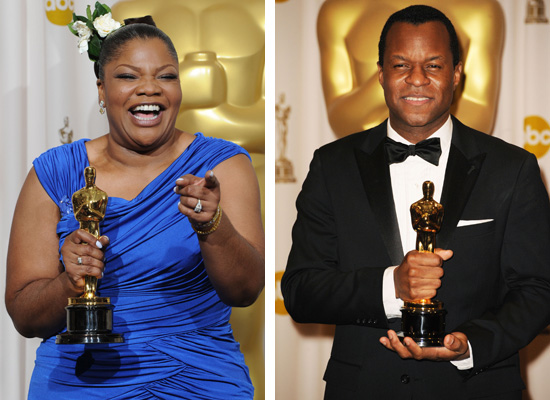 Actress/comedienne Mo'Nique was honored last night with the Oscar award for "Best Supporting Actress" at the 82nd Annual Academy Awards! As many critics (and the media alike) predicted, the actress turned late night TV talk show host won the prestigious award for her role as "Mary Jones" in the hit movie "Precious: Based on the Novel 'Push' by Sapphire."
Backstage at the Oscars, Mo'Nique had this to say:
"The reason why I have on this royal blue dress is because it's the color that Hattie McDaniel wore in 1940 when she accepted her Oscar. The reason why I have this gardenia in my hair, it is the flower that Hattie McDaniel wore when she accepted her Oscar. So for you, Miss Hattie McDaniel, I feel you all over me," Mo'Nique said.
Mo'Nique made history with her win as she is the first stand up comedienne to win an Oscar. She also added to history as the fifth black actress to win an Academy Award. Those who went before her were Hattie McDaniel, Whoopi Goldberg, Halle Berry and Jennifer Hudson.
And speaking of historics, Geoffrey Fletcher, who won the Oscar for "Best Adapted Screenplay" for his role as the screenwriter for Precious, was the first African American screenwriter to win a gold statue, so congratulations are definitely in order for both he and Mo'Nique. Neither actress Gabourey Sidibe, who played the lead role in the movie, nor director Lee Daniels won in their respective categories. "Best Director" went to Kathryn Bigelow and "Best Actress" went to Sandra Bullock.
Check out a few pics of Mo'Nique, Geoffrey Fletcher, Sandra Bullock and Kathryn Bigelow with their brand new prized possessions below… And continue reading to watch, Mo, Geoff and Sandra's acceptance speeches!
MO'NIQUES OSCAR ACCEPTANCE SPEECH
GEOFFREY FLETCHER'S OSCAR ACCEPTANCE SPEECH
SANDRA BULLOCK'S OSCAR ACCEPTANCE SPEECH
Be the first to receive breaking news alerts and more stories like this by subscribing to our mailing list.