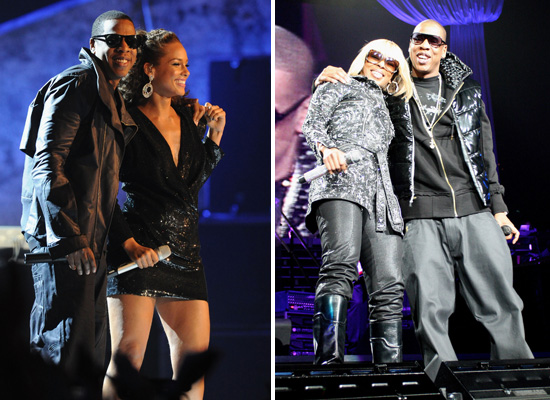 How would "Empire State of Mind" sound with Mary J. Blige on it? Jay-Z recently revealed that MJB was originally considered for the song's hook, which is currently sung by another NY-bred R&B singer/songwriter, Alicia Keys. Jigga says he was "two seconds away" from calling Mary J to lay down the song's famous chorus.
His most important decision was calling Alicia Keys next. Her brassy, soaring chorus is the song's heartbeat — without it, it's hard to imagine "Empire State" as more than a nice local hit. And it almost was. Jay-Z, now 40 years old, admits he was "two seconds away" from calling Mary J. Blige, his reliable longtime collaborator, to supply the chorus, a move that would have been safe and true to his heritage. But something about the piano sound and melody (and maybe the commerciality) struck him, and so it was. It's a blessing, really, because "Empire" is hardly an emotional dynamo without Keys, her ululating voice rising on each word, grasping for the grandeur Jay sometimes misses. He says the song is meant to be inspirational, initially tracking his transition from "out that Brooklyn" to "down in Tribeca," a familiar trope for Hov.

MIAMI NEW TIMES
Be the first to receive breaking news alerts and more stories like this by subscribing to our mailing list.