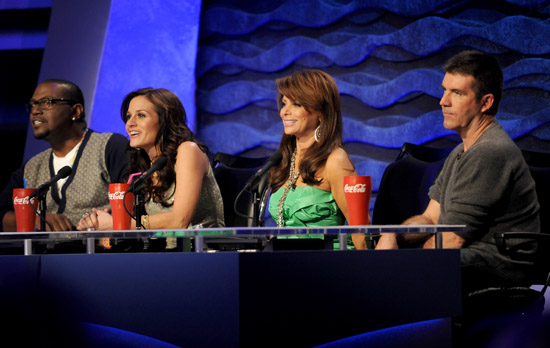 Was Paula Abdul leaving the show not shocking enough? Now it looks like America's favorite critic Simon Cowell is finally calling it quits after he wraps up the upcoming season of American Idol. Cowell is more focused on bringing "The X Factor," the British version of the talent competition to the states. Tony Cowell, Simon's older brother, revealed his brother's plans in his weekly podcast The Cowell Factor.
"Meanwhile, Simon prepares for a new season of 'Idol' — or should I say, his last season of 'Idol,' " Tony said in the December 19th episode. "A press statement is being prepared which will confirm what everybody expected: Simon will leave 'Idol' at the end of 2010 to concentrate on bringing the American version of 'X Factor' to U.S. TV in 2011."
This conflicted with earlier reports in which Robert Sillerman, CEO of CKX, Idol's parent company and co producer 19 entertainment, said Cowell was in negotiations to renew his Idol contract for another 3 seasons.
"We've heard from Fox, who has asked us for approval for Simon Cowell to appear for three more years on 'Idol,'" Sillerman said. "They, in their negotiations with Cowell, have asked us to pre-approve him not only for 'American Idol' '09, which has begun taping, but they have also asked us for approval for '10 and '11, indicating to us that they're finishing their negotiation with Cowell. We did grant approval for that, quite obviously."
In August, Paula Abdul confirmed that she will not be returning to the show for any future seasons. Rumors swirled for prior to her announcement that she wasn't happy with the amount of money being offered for her return.
"I'll miss nurturing all the new talent, but most of all being a part of a show that I helped from day one become an international phenomenon," Adbul tweeted. "What I want to say most is how much I appreciate the undying support and enormous love that you have showered upon me. I do, without any doubt, have the BEST fans in the entire world and I love you all."
And shortly after Paula made her announcement that she would be stepping down from her post as judge on the show, network producers got Ellen DeGeneres to fill Abdul's seat. In addition, Ryan Seacrest renewed his contract for another three season. Also on board for the upcoming season are Kara DioGuardi and Randy Jackson, who is under contract until the end of the current season.
SOURCE
Be the first to receive breaking news alerts and more stories like this by subscribing to our mailing list.