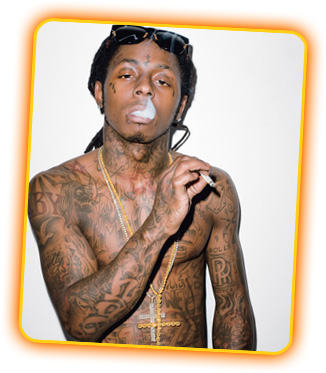 You're not surprised are you? We're not either! Rapper Lil Wayne's high end Miami apartment is having trouble being sold on the market because of an overbearing stinch of marijuana. The NY Post reports that the New Orleans native has been renting the 3 bedroom, 2 bathroom apartment from a landlord who has listed the property for $520,000. The marijuana aroma has become an issue, especially since several prospective buyers noticed the weed smell when they visited the home.
"My fiancée and I called to make an appointment to see it, and the broker, deadpan, goes, 'I have two questions: Are you offended by the smell of marijuana?" an unidentified couple told the NY Post. "And do you mind coming late in the afternoon? It's currently rented by Lil Wayne, and these are not morning people."
Even though the couple walked into a potential rap video in the making they were shocked to find the Grammy Award winning rapper had such neatness and structure in the apartment.
"Once we got there, a member of Wayne's posse opened the door to the overwhelming smell of marijuana. Two hot, rap-video-looking girls were walking around in nothing but a bra and underwear, blasting hip-hop. We just went in and looked around and tried not to stare," they revealed. "He had a perfectly organized closet of crisp T-shirts on hangers, neatly stacked piles of XXL magazine, and a fully stocked bar featuring multiple bottles of Hennessy Black."

SOURCE
Lil' Wayne's constant use of marijuana and syrup has made headlines this entire year and the rapper addressed the issues in two different interviews with Tim Westwood and Katie Couric.
The international rap superstar turned rock star is finally releasing his Rebirth album in February 2010, which is also the same month he is expected to be sentenced to a year in prison. He'll also most likely begin serving his time shortly after he's sentenced.
Be the first to receive breaking news alerts and more stories like this by subscribing to our mailing list.