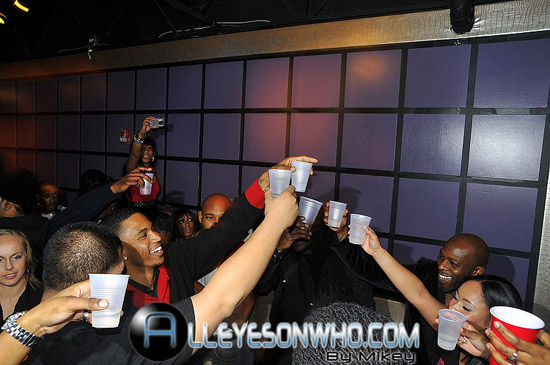 R&B singer Joe says he and Trey Songz didn't get into a fight at Trey's 25th birthday party at a club in NJ, and more importantly, they didn't get into a fight over Tahiry. The crooner added that a fight could have broken out between an associate and VIP security, but he said he wasn't there to witness it.
"First of all, I was not involved in a fight. Me and Trey Songz are real cool. We did a record on my last album. We did 'We Need To Roll' and, you know, I went to show support," Joe told AllHipHop.com. "That's my man. I heard he was going to be having a party that night and there was going to be a performance. Nothing happened between him and I."

However, Joe did say that the fracas could have been from an associate, even though he had left the venue prior to the melee. "It could have been where my man had a problem with security just for a quick second and they were trying to clear the V.I.P. It was really, really crowded up there. It wasn't anything like they didn't want me there [or] they didn't want the other guests there, like Tahiry. Everybody was cool."
Joe said that an associate of his attempted to prevent a young lady from getting kicked out and that might have sparked the whole fracas. "So, security had him hemmed up in the corner and I told them. 'That's my man. He's with me' and [security] was like 'Cool, no problem.'" Joe explained. After that, he said he left the club. "After that, I was bouncing, getting ready to leave anyway so I told Trey [I was leaving] and we made a couple of toasts with some Patron and then I left."

The singer said that he could not fathom how attending an event under the auspice of support would result in widespread unconfirmed reports of a fight between friends. "Its just crazy…for it to go from us just hanging out to..maybe Trey got into a fight and people thinking it was me. Before anything popped off, I was already out of the building."

Lastly, of the evening, Joe briefly dismissed that the ordeal could have been a lover's quarrel over Tahiry. "I just met her that night for the first time. Its nothing going on between me and her and definitely no fights between me and Trey," he concluded.

SOURCE
The 37-year-old singer just dropped a Christmas album titled Home Is The Essence of Christmas and it can be found on iTunes, and his 8th studio album Signature, which contains a bonus track titled "We Need to Roll" (f/ Trey Songz) was released over the summer.
Be the first to receive breaking news alerts and more stories like this by subscribing to our mailing list.