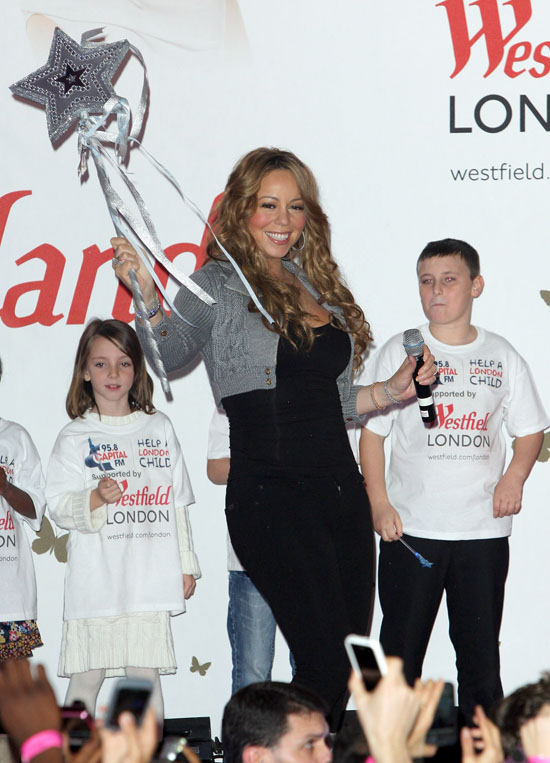 Pop star Mariah Carey performed Thursday night (Nov 19) at the official Christmas lighting ceremony at the Westfield Shopping Centre in London, England.
The "imperfect angel" is most definitely living up to her name lately. Can you believe that for this particular event, she actually requested 100 white doves, 20 fluffy white kittens, pink butterfly-shaped confetti, a pink carpet (instead of a red one), a Rolls Royce, 80 security guards and a magical wand? All of this came verbatim from her contract rider, which included mention of her 100 person entourage. The white doves were to be released at some point during the ceremony while the pink butterfly-shaped confetti was to fall on her as she made her way to a pink podium. And to light the tree, she would use some type of "magical wand." No one knows what the fluffy white kittens were for.
But unfortunately for Mimi, despite her crazy requests, the organizers had to nix anything that involved animals because the Westfield mall said they don't allow them due to health reasons. The mall said: "We do not allow pets into Westfield – that rule would apply for everyone."
So it sounds like she just had to get her ass up there and do her job like anyone else would, instead of being so damn extra all the time! Nick must have to put up with a lot of bull…
Be the first to receive breaking news alerts and more stories like this by subscribing to our mailing list.