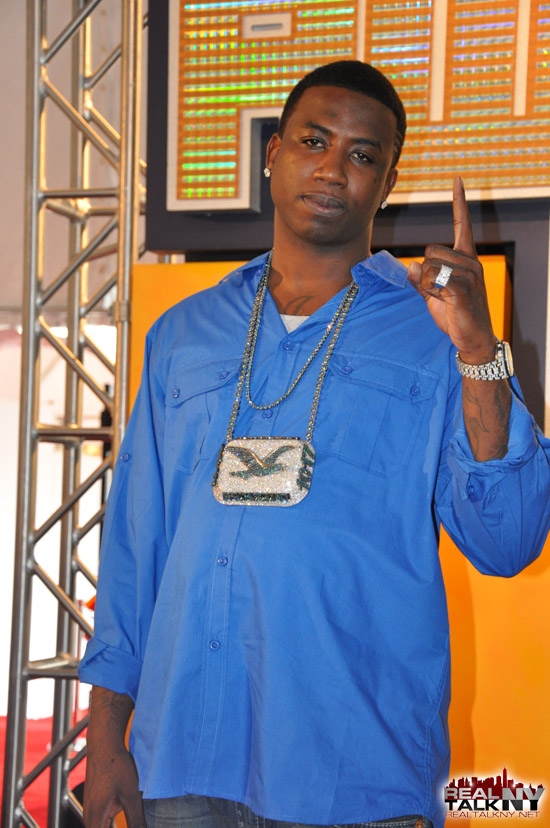 Damn Gucci!!
According to a rep from his label, Gucci Mane was sentenced to 12 months in prison and taken away in handcuffs Thursday (Nov 12) for violating his probation.
The sentence is a blow to Gucci's career. The ATL rapper has an album coming out — The State vs. Radrick Davis — on December 8 and is arguably at the height of his career; in terms of his sentence, he may be out of jail in six months. Last September, Gucci went to jail and served until March; he was sentenced to a year in prison for failing to fulfill his court-ordered 600 hours of community service, which had been mandated in 2005. Further information was not available at press time.
"It was a challenge for me," he told MTV News in March about going to jail in 2008. "I'm just happy my team kept my music going strong for me. And I'm happy I recorded so many records so people could hear me." Upon his release Gucci went straight to the studio and recorded five songs. "Then I had a party later that night to get ready for, so that took up most of my day right there," he added, describing his first day as a free man.

This year, Gucci definitely was breaking through from the streets to the mainstream, guest appearing on tracks for the Black Eyed Peas, Mario, Omarion, Mariah Carey and even a 50 Cent song. Gucci's current single is called "Spotlight" and features Usher. This follows on the heels of "Wasted," featuring Plies.

SOURCE
We knew this dude would land himself back in prison one day soon, success and all! The year 2009 has been the biggest year of Gucci Mane's career, and you'd think that would make the knucklehead chill out and take his life seriously … but nope, not Mr. Radric Davis. Bumping shoulders with folks like Mariah Carey and Usher and being features on tracks with them just obviously wasn't enough. Hell, even MTV showed him some love by putting him on their Top Rappers of the Year list.
But Gucci, you have really got to get your ish together when you get out this time. 2010 could have been yours! Now you and Lil Wayne are gonna have to compete this time next year, SMH…
Be the first to receive breaking news alerts and more stories like this by subscribing to our mailing list.