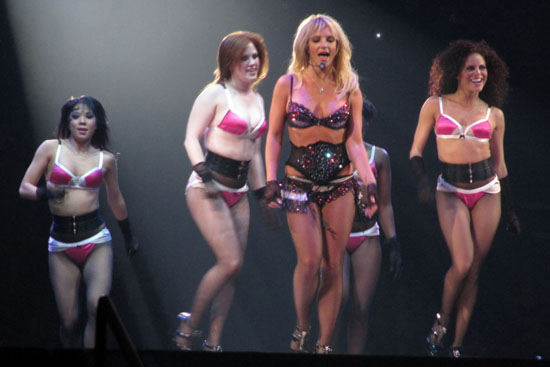 Hundreds of Britney Spears fans up and left a concert in Australia over the weekend on account of her lip-syncing, something she's been known to do since the start of her career. Australian media reports that after only performing 3 songs in Perth Friday night (Nov 6), fans describing the show as "boring" and said Britney spears was stiff and failed to connect with the audience. And they got all of this before the first dress change…
But the people in Britney's inner circle, including a few of her fans, say Britney is well aware of the complaints and it definitely affects her.
"Britney is aware of all this and she's extremely upset by it. She's a human being. I'm embarrassed, with such a big international entourage here with Britney, to be part of the Australian media when I see that kind of totally inaccurate reporting," Britney's tour manager Paul Dainty told Australian newspapers on Monday.
After a high profile meltdown the star has reinvented her-self with a comeback to attempt to take the world by storm. Britney has been touring all over the world with her sixth studio album Circus. Before her life ran out of control she had done a handful of live concerts. This out of control behavior has caused her to (in no particular order) be in psychiatric care, go through an ugly divorce, lose custody of her two sons (temporarily), shave her head completely bald and go out partying without panties.
Ever since she touched down in Australia, Spears has been the center of debate in Australian news over her lip-synching, even though she's been known to do that since the beginning of this particular tour. But her tour manager Paul says Britney's lip-synching should come as no surprise because fans have known about it since the beginning of the tour, blasting any inference that this notion was hidden.
"It's been all over the Internet for nine months," Dainty said. "This show is about an incredible spectacle, which it is."
Fortunately for Britney, the 17,000 people who stayed at the show made no complaints about her performance, and the next night saw the same numbers and ended without any complaints about her lip-synching.
Be the first to receive breaking news alerts and more stories like this by subscribing to our mailing list.