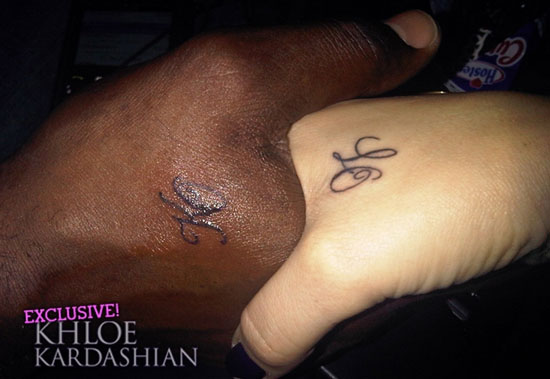 Khloe Kardashian wrote on her blog Monday (Oct 26) that over the weekend, she and her new husband Lamar Odom made a spontaneous decision to get matching tattoos. While the couple were eating dinner Saturday night (Oct 24) at Sunset Plaza in Los Angeles, Khloe says she just knew she wanted to get a tattoo for Lamar in the web of her hand. She also explained how she's a firm believer in thoughtful tattoos with significant meaning and she mentioned the tattoos she has in memory of her late father, attorney Robert Kardashian.
Khloe writes:
Hi dolls! Hope you all had a fabulous weekend…I definitely did! Saturday night Lamar and I were eating at Sunset Plaza and I just said, "Let's go to Tattoo Mania! I want a tattoo!" I think the best tattoo experiences are the spontaneous ones, because that way you are not only left with the tattoo, but an amazing memory to go along with it!
I'm definitely a believer in tattoos as long as they are thoughtful and have significant meaning, which all of mine do. On my wrist I have "I love you" in my father's handwriting and on my lower back I have a cross and angel wings with "Daddy" written above it in honor of my father and now I have my husband's initials "LO". Tattoos are something you'll have for the rest of your life so it's important to get one that truly means something to you.

When we were at dinner, I just knew I wanted a tattoo for Lamar in the web of my hand, and then once we got to the shop we decided on getting each other's initials. I got "LO" in cursive on my right hand and he got "KO" on both hands. I love how my tattoo flows with the one I already have. It's special to me, which is why I believe it's worth it when it symbolizes something or someone that is important to you.
Moving too fast too soon maybe? It seems like these two have tied the knot and don't planning on letting it unravel anytime soon. Or at least we hope so. It'd be hard to explain to a future significant other why you have a big azz "KO" or "LO" on your hand.
Be the first to receive breaking news alerts and more stories like this by subscribing to our mailing list.